Winding its way across one of Croatia's most iconic regions, the Premužić trail offers hikers a perfect way to explore Velebit National Park. Rising high above a coastline mostly known for its sunbaked beaches and rocky coastal cliffs, these mountains offer a cooler, more quiet alternative to the tourist-oriented shores below. For those looking to find an alternative to more crowded national parks such as Plitvice, the Premužić trail should definitely be one of your highlights when visiting this country.
Hiking the Premužić trail
When forestry engineer and mountaineer Ante Premužić first laid out his plans to build a hiking trail across the rugged terrain of the Velebit mountain range, he faced quite the challenge. The imposing cliffs and karst formations of the region would make the construction of this trail an exercise in endurance, craftsmanship and resources. But after three years, being delayed by one season due to a lack of funding, construction on the Premužićeva staza was finally finished in 1933. Winding its way along some of Croatia's most impressive karst formations, this 57-kilometre long hiking trail now provides one of the best ways to explore the Velebit region.
One of the first things you'll notice when hiking the Premužić trail is the quality of the trail itself. Almost all parts of the trail have been constructed using the drystone technique, where rocks have been placed together without the use of mortar. The quality of the craftsmanship is obvious, as the trail has endured harsh weather, wear-and-tear and tourists for more than 88 years. Especially when compared to your average Balkan hiking trail, the Premužić trail feels more like a stone highway than a typical hiking trail on some sections.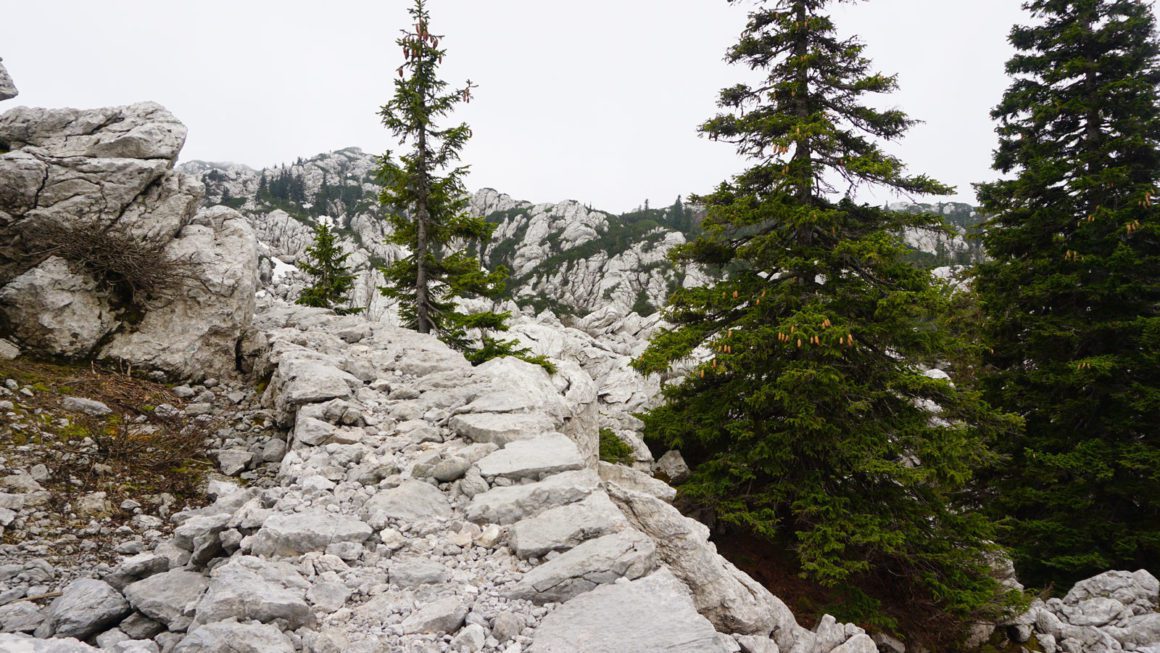 Besides being easily accessible, the Premužić trail lets you discover one of Croatia's most iconic regions. With its impressive karst formations, wild forests and flowery meadows the Velebit mountain range offers memorable sights at every turn and summit. And being a coastal mountain range, the views from its western slopes offer unforgettable views of the Adriatic sea and jaw-dropping Mediterranean sunsets.
The Premužić trail starts at the Zavižan mountain refuge and ends in the village of Baške Oštarije. The trail is 57 kilometres long and it will take most hikers three to four days to complete. Overall, the trail is well maintained and some sections can get quite busy during the warmer months of the year. If you're looking to extend your trek along the Velebit mountain range, you can keep following the Velebit hiking trail going south past Baške Oštarije, all the way to Paklenica National Park. The Premužićeva staza is also part of the Via Adriatica trail, which in turn follows most of the Via Dinarica mega-trail in Croatia.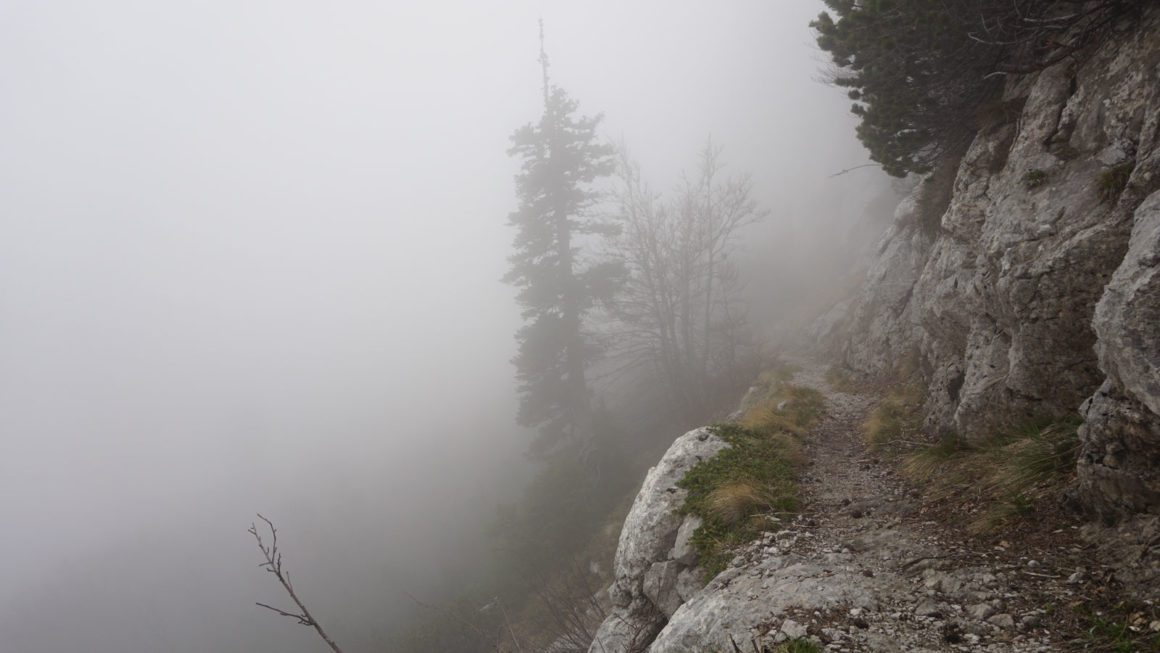 Treasures of Velebit National Park
Along the way, you'll encounter a number of information panels detailing the flora and fauna to be found in the region. Local populations of wolves and bears share forested valleys with lynxes and deer, while the higher regions above are home to birds of prey, looking for their next meal while hovering high above spectacular views. Those of you hoping to see rare species like wolves or lynxes might be up for a long wait, as most of these critters inhabit the more inaccessible parts of the region. Lucky hikers might even encounter bears, deer or the occasional fox, though!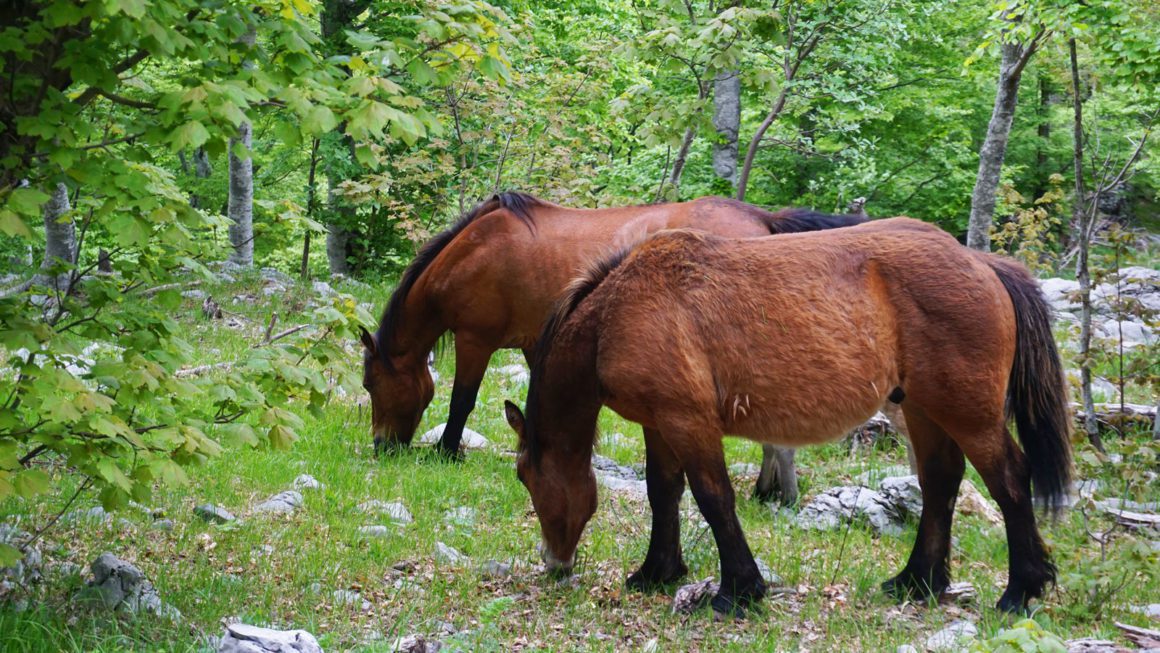 Some of the most defining features of the Velebit mountains are deep underground pits and caverns scattered throughout the region. These hidden underground halls are the result of erosion, where streams of water have disappeared underground and have carved out deep basins over thousands of years. In these underground depths, researchers are still finding new animal species such as the Velebit Leech. Besides slimy subterranean creepers, the Velebit mountains are also abundant in butterfly species, thanks to the variety of flowers blooming in the warm seasons.
Accommodation on the Premužić Trail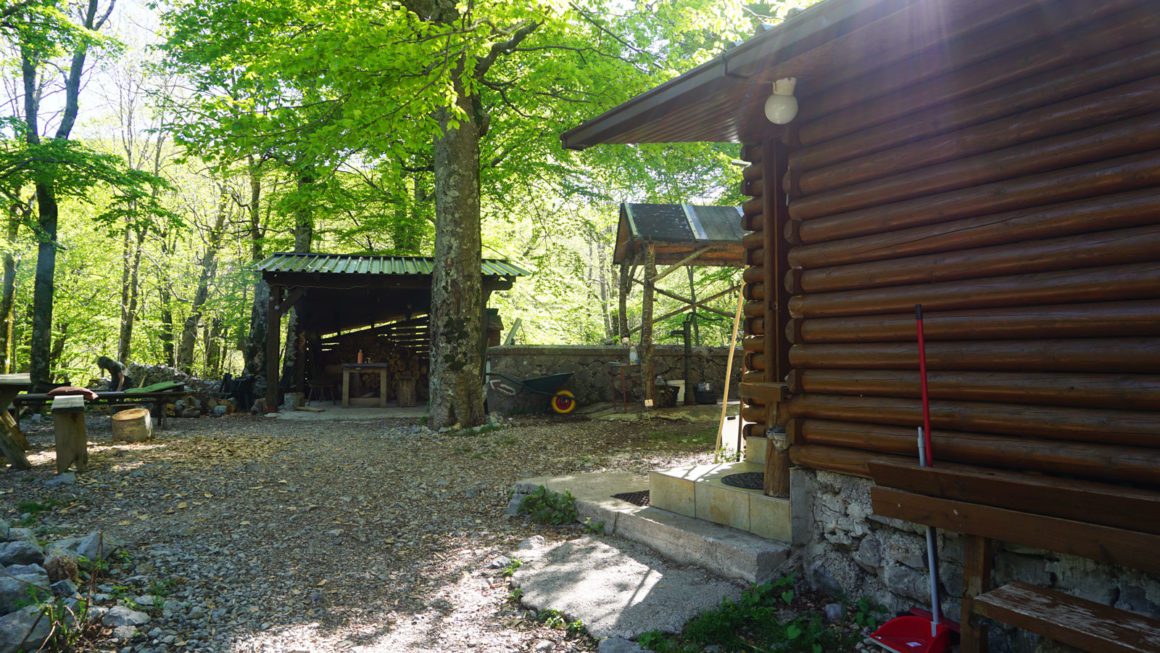 Although wild camping is strictly forbidden within Velebit National Park, there are plenty of options to spend the night in relative comfort. A number of mountain huts and refuges are available along the trail, each offering a different range of facilities. For an easy way of knowing what to expect, I made a quick overview of the three main types of mountain shelters to be found in Croatia:
A dom or planinarski dom is a staffed mountain hut, often serving food. These huts are usually open for limited days of the week, month or time of year. The Zavižan hut in Velebit is a good example of a planinarski dom. Bring a sleeping bag!
A kuća or planinarska kuća is a mountain hut that is often staffed and is open for limited days of the week, month or time of year. Sometimes these types of huts are only open by prior arrangement, so the need to call ahead and book your stay might be necessary. In some cases, a planinarska kuća offers limited facilities when compared to a planinarski dom, like the absence of running water or indoor toilets and/or showers. The Alan mountain hut in Velebit is an example of this type of mountain hut. Bring a sleeping bag!
A sklonište or planinarsko sklonište is an unmanned free shelter that is usually always open throughout the year. Depending on the shelter it may have a water source or heating stove, although this is not always the case. If you're planning on spending the night in a sklonište, you should bring a sleeping mat as well as a sleeping bag. The Skorpovac shelter along the Premužić trail is probably my personal favourite sklonište, if not one of my favourite mountain shelters in the world!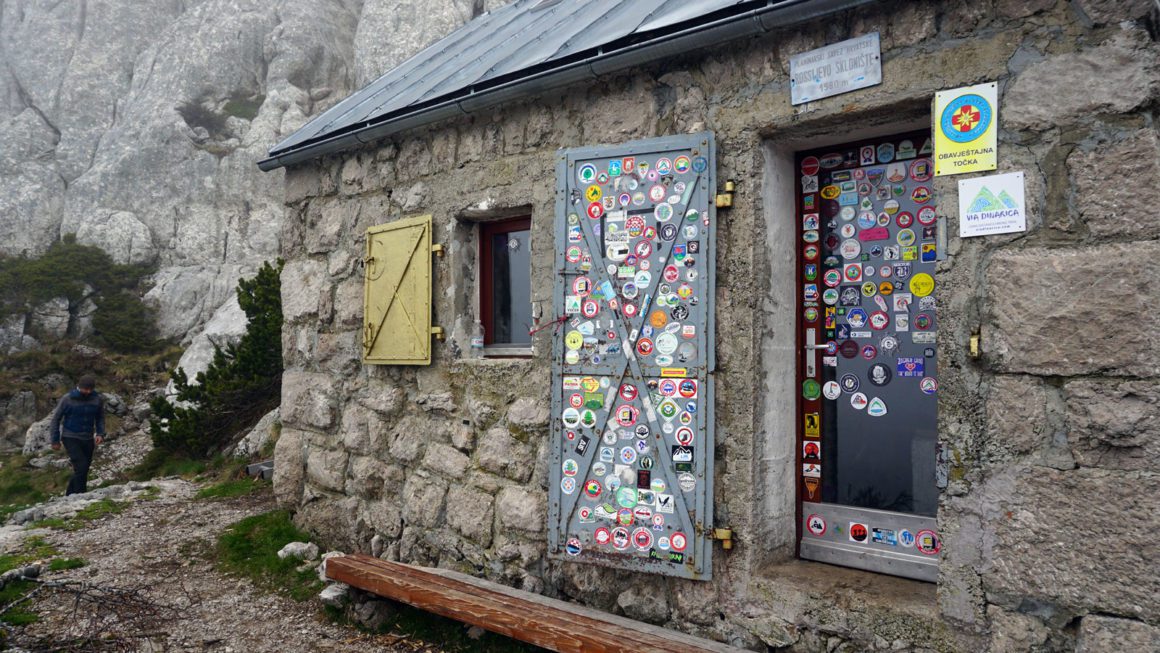 In short, when you're looking for a guaranteed roof over your head every night, it might be wise to phone ahead and book your nightly stays in advance in a dom or kuća. And when you're looking for a more independent adventure it might be worth checking out the locations of free sklonište shelters along the Premužić trail.
Keep in mind that the Premužićeva staza is quite popular with local tourism in spring and autumn, while foreign hikers tend to walk the trail in the summer months. Croatian hikers tend to hike in larger groups, which means that huts and shelters can fill up fast. To make sure you have a roof over your head, book in advance or avoid planning your trek through Velebit National Park during the weekends.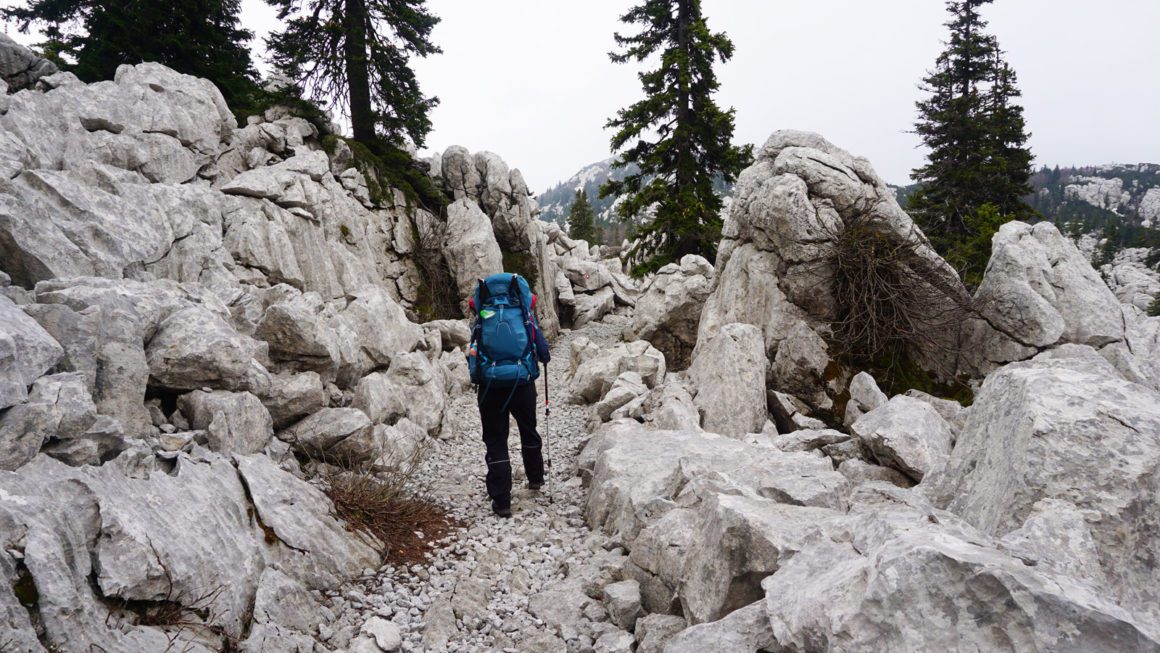 As I said, wild camping is not allowed (and the ban is actually enforced) within national parks. However, you can easily find spots to pitch a tent for a night outside the boundaries of a park or reserve. Just make sure to leave no trace and camp away from private property! And when the shelter you're planning on staying at is full, any ranger will understand if you put up your tent next to the shelter for an emergency campout!
For a comprehensible English-language overview of huts and shelters in the Velebit region, check out this webpage. Also, when planning any hike in Croatia I highly recommend taking a look at this interactive map featuring shelters, trails, national parks and other points of interest all over the country.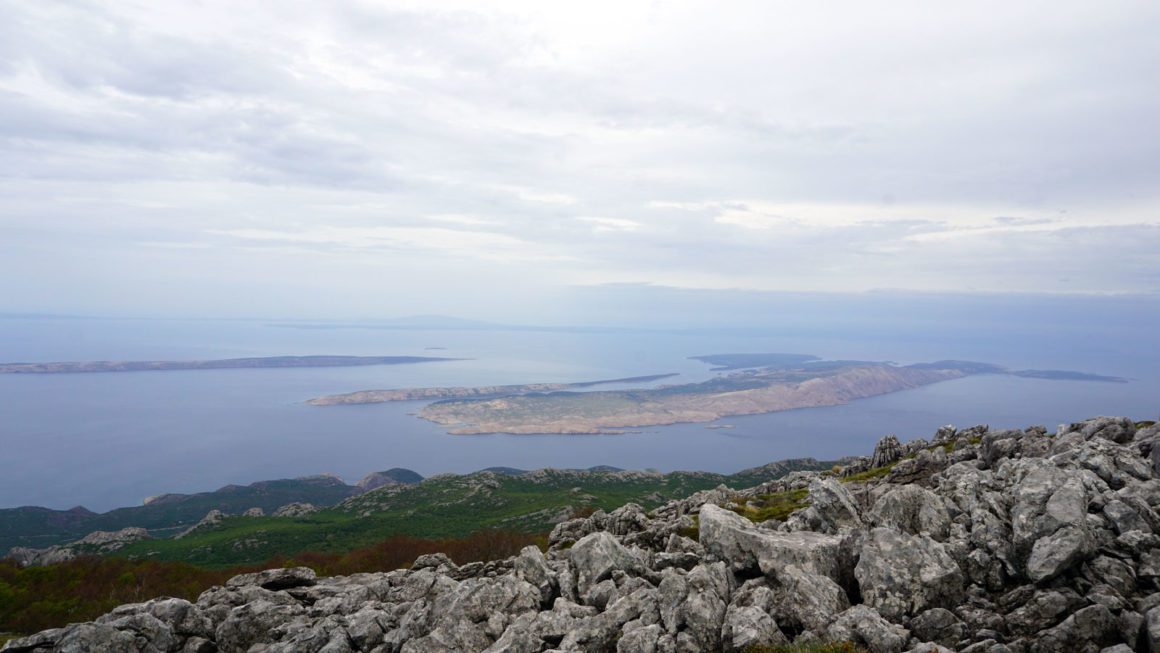 Food and water
For all their lush splendour and green vistas, the Dinaric Alps can be notoriously dry during the warmer months of the year. The Velebit region is no exception to this rule, although there are plenty of water sources if you know where to look. As far as the Premužić trail is concerned, water can always be found at the Zavižan and Alan mountain refuges, the Skorpovac shelter and in Baške Oštarije.
There are several cisterns and sources along the way, but these exact locations are best found on good GPS maps or by asking locals. In the dry, hot summer months I would strongly recommend you carry at least 3 litres of water a day for every person, as some sources may be dry until autumn or winter.
In terms of food, it would be best to pack breakfast, lunch and dinner for at least three days if you're not planning on buying food along the way. Otherwise, food can be bought at the Zavižan and Alan mountain huts. That being said, it might be a good idea to pack an extra day's worth of food anyway, especially when you're able to extend your trip for an extra night in a romantic forest cabin!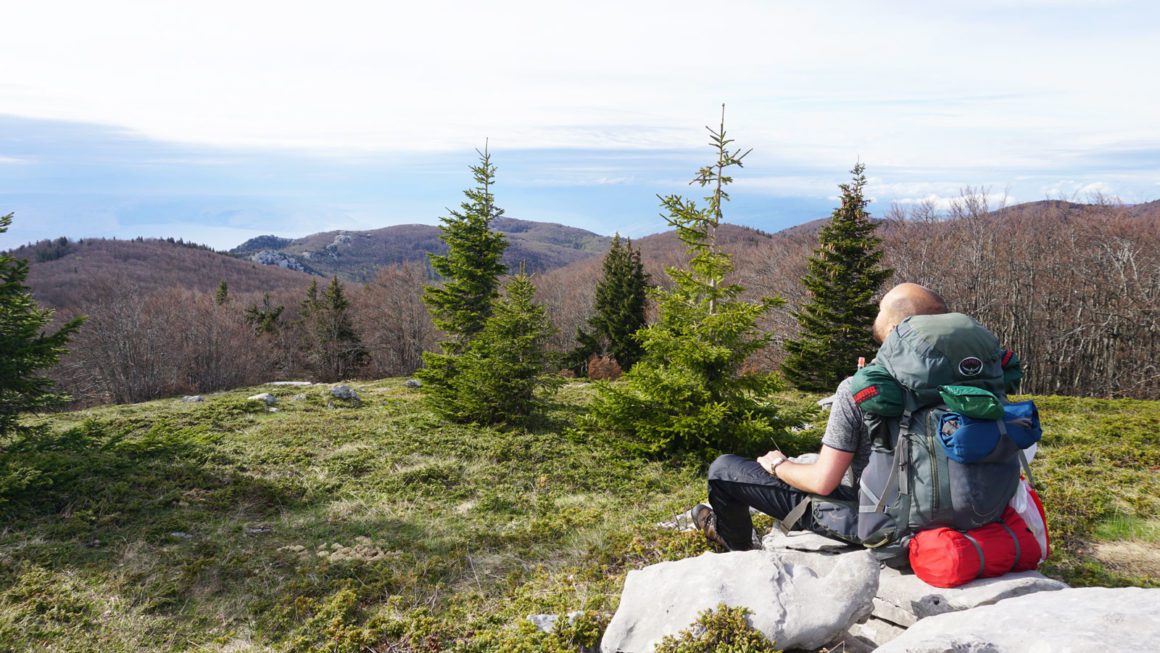 Premužić trail map and GPX
If you're planning on hiking the Premužić trail, you might find that specific English-language trail information might be hard to find online. Not to worry, the trail itself is well-marked and quite easy to follow. Nevertheless, it's always a good idea to come prepared with in-depth knowledge of the route. To help you out, I've created a handy interactive route map of the Premužić trail in Komoot:
To download the route onto your GPS device, simply click the "Discover more" link underneath the map to go to my Komoot page. Once there, select "Export to GPS device" in the right-hand menu to download a GPX file. You can then load this GPX file onto any compatible GPS device to view the route on the go!
Local knows best
When you allow the Premužić trail to be your guide to this part of Croatia you'll not only encounter breathtaking views of its coastline, you'll almost certainly experience local hospitality at its finest. Stop to chat with locals walking the trail or staying at shelters and you'll undoubtedly find a friendly soul or two willing and able to speak English. In my experience, these people are more than willing to recommend their favourite places and best kept secret spots in the country. There's really no need to book your next destination in advance when you're loaded with local recommendations!
See you on the Trail!