Rising high above the Gulf of Bothnia, the High Coast Trail is one of Sweden's signature hiking trails. It takes you along 130 kilometres of stony hills, scenic cliffs, lush seaside forests and sandy beaches. Expect to face some frequent steep climbs and rocky terrain, but also easy access to towns and dreamy seaside camp-outs. The High Coast Trail is perfect for beginners looking to hike their first long-distance trail, while it offers hiking veterans a scenic warm-up to Sweden's more intense long-distance trails.
Directly go to section:
Preparing for Sweden's High Coast Trail
Level of difficulty
The High Coast Trail takes you on a trip along Sweden's High Coast region, an area known for its unusual geographic features and home to the infamous surströmming (fermented Baltic herring). The region's unique terrain is a result of a process called glacial rebound, where land masses continue to rise after their Ice Age glacier cover melted ages ago. The result is that this stretch of coast features coastal hills and cliffs that are significantly higher than anywhere else along the Swedish coastline.
Because of this phenomenon, you can expect the terrain to vary greatly along the High Coast Trail. This makes for an enjoyable hiking experience, but it also means you'll need to prepare yourself for rocky paths, muddy trails, and sometimes a steep climb or two. Fortunately, the trail can be walked in about 5-6 days and often passes near or through villages where you can easily resupply. This means you don't have to carry a heavy supply load and you can pack light!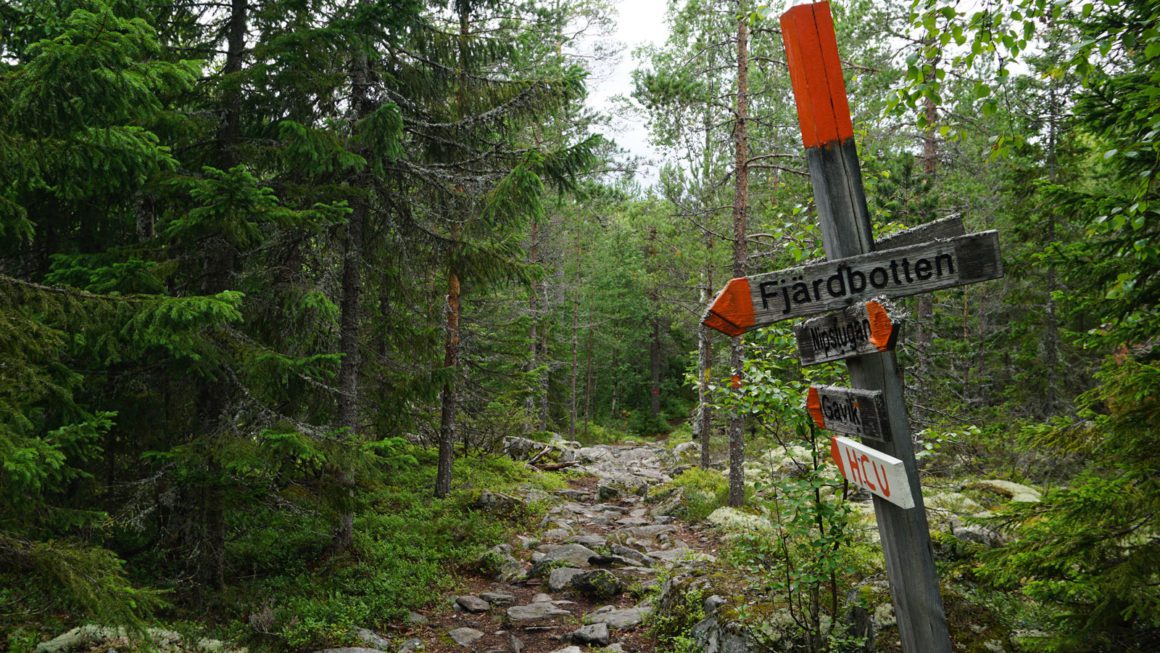 The highest points along the trail are all around 200-250 metres (650-820 feet) above sea level, making Sweden's High Coast Trail a perfect long-distance trail for beginners. What time of year the High Coast Trail is best walked depends on your own preferences; the summer months can be unpredictable, with a higher chance of rain in July and August and dryer weather in March and April (although colder and possibly snowy as well).
As mentioned earlier, this trail is perfect for first-time long distance hikers, mostly due to the excellent trail marking. Navigation skills are not really needed along the High Coast Trail, as it is very well marked by both wayposts and orange markings on trees and rocks along the way. This makes it a perfect opportunity to safely practice your skills in map reading, compass use, or to train your general sense of direction.
Logistics
The trail runs almost parallel to one of Sweden's busiest highways, the E4. This means that you can easily find bus connections to and from every section on the trail, making it quite simple to get to the start of the trail on either end, or back to civilisation whenever you need to. Trains also run regularly up and down the coast towards Stockholm.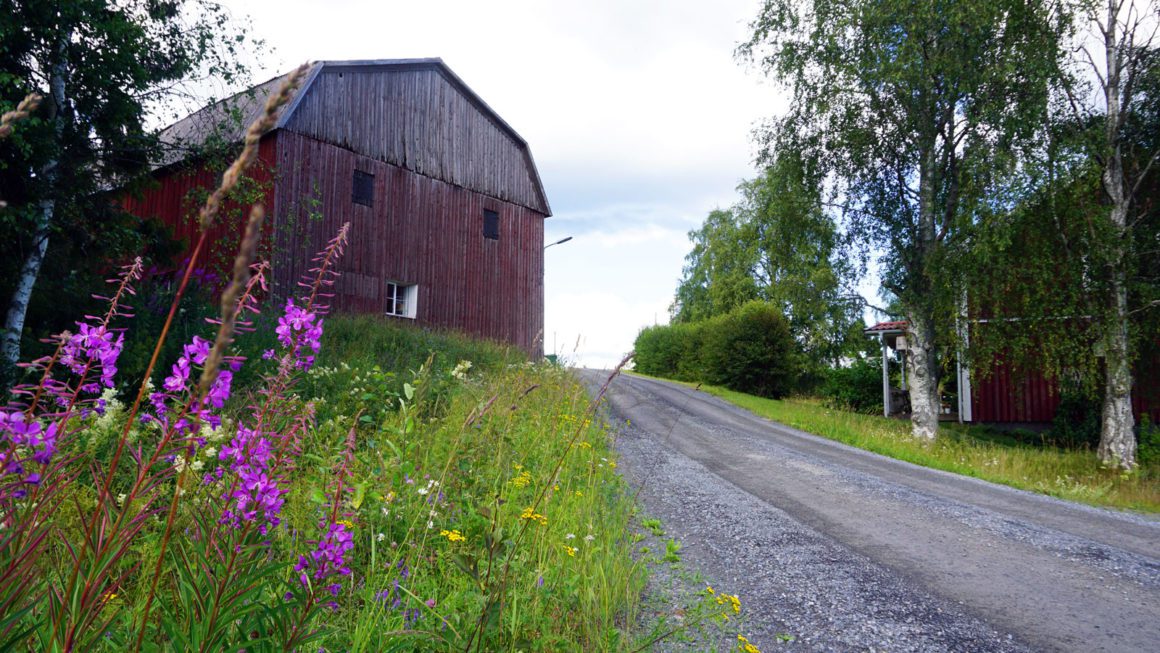 The northern end of the High Coast Trail can be found in the town of Örnsköldsvik, offering seamless connections to the rest of Sweden. Its southern end is located at the foot of the imposing Högakustenbron, the High Coast Bridge. This end of the trail is situated in a developed area primarily built for road traffic. To reach the trail head with public transportation, you will have to walk on a byroad for a few minutes to reach a nearby bus stop. There is a hotel with an information desk right next to the trail head marker, should you need more information on public transport connections.
An abundance of accommodation options is on hand to cater to walkers of every sort. From cosy B&B's in towns to convenient free cabins strewn along the route, you will not be left without shelter. Another advantage to hiking the High Coast Trail is that Sweden's Allemansrätten (Right to Roam) allows you to freely set up your tent anywhere you go!
---
The Allemansrätten, Sweden's Right to Roam, is a law that allows people free access to almost every part of the country. There are a few exceptions, but it basically comes down to this:
You are allowed to freely walk, cycle, swim or ride on any land that is not specifically closed off. Areas within city limits, fenced farmland/cattle ranges, and private terrain (basically anywhere people live) are still off-limits without permission.
You can set up camp anywhere for one or two nights at most, except in national parks, protected areas, land used for grazing, or within 200 metres of private property. Additionally, you must take responsibility to not leave any trace, not disturb the wildlife, and take your trash with you as you leave; "Don't disturb, don't destroy" is the motto here.
You are allowed to build open fires as long as you keep them contained and safe. It is your responsibility to know if a fire ban is in place for the area you're in. Luckily, checking for a ban is easy with this website.
You can freely pick berries and mushrooms wherever you find them, provided they are not protected species.
Keep in mind that the above does not apply to national parks!
Fun fact: Norway, Finland and Iceland (Denmark is slightly more restricted) also have similar laws that allow you to freely roam the countryside. Just bring a tent and sleep for free among some of the best scenery on the northern hemisphere!
---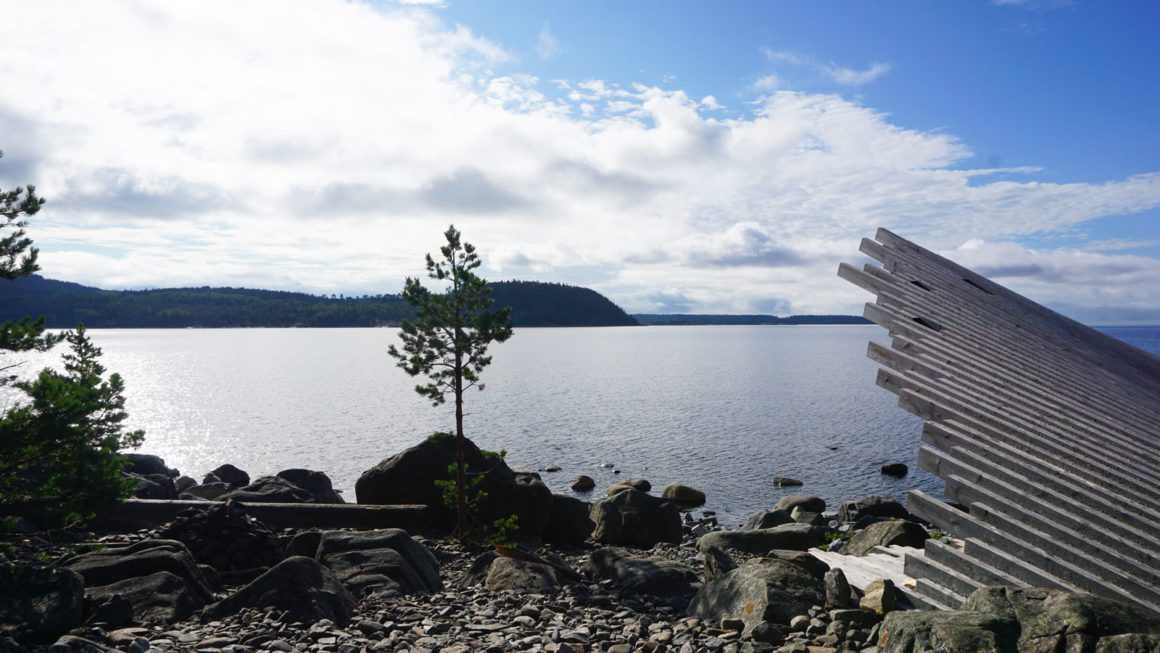 Food and supplies
The High Coast Trail runs through an area of Sweden that is not very densely populated, but still has enough towns and villages to make resupplying your food and water an easy task. You will pass by stores or supermarkets almost every day, while the occasional spring or stream can help in keeping your water bottle filled. Take note however, as these water sources can be less relied upon during the summer months.
There are also water taps at the southern start in Hornöberget and in the villages of Lövvik, Lappudden, Skoved, Docksta, and Köpmanholmen.
Although there are plenty of places to get regular supplies (even gas canisters are sold in most places), to get specific outdoor gear like tents or hiking shoes you'll need to go to one of the larger towns. Stores specialising in outdoor gear can be found in Örnsköldsvik and Sundsvall.
Luckily, Sweden having an outdoorsy culture means that many stores cater to the needs of hikers and outdoor enthusiasts, often offering freeze-dried meals or lightweight food options.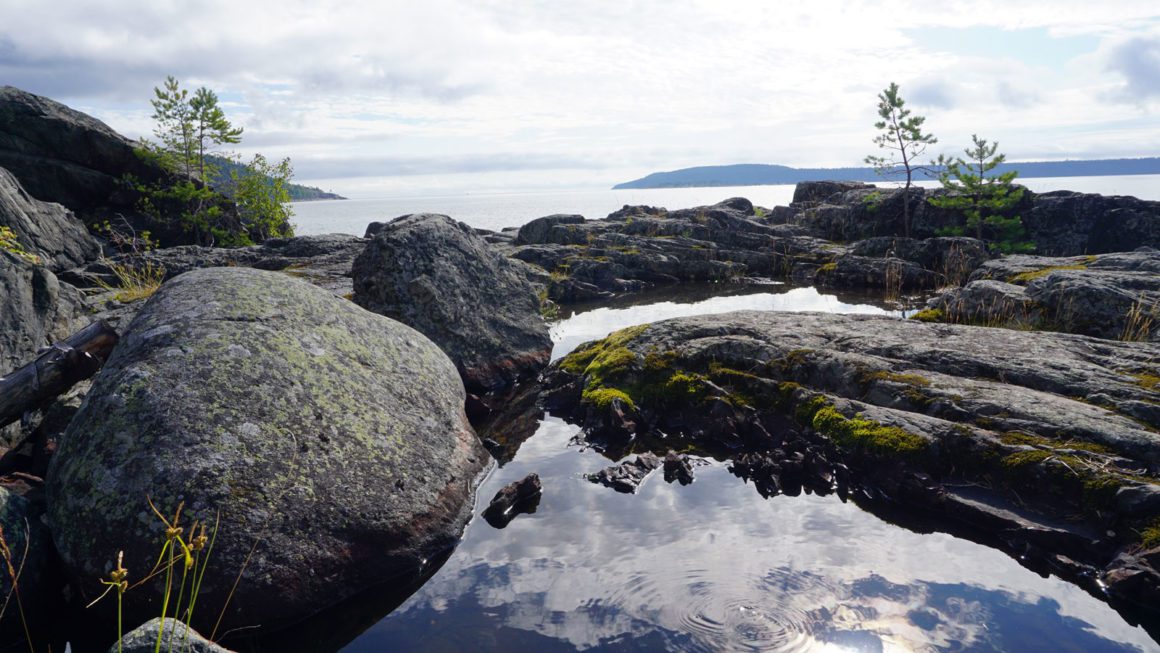 The Route
Whether you decide to start hiking the High Coast Trail from its southern or northern end, it will offer stunning seaside views, morning sunrises and some challenging climbs up forested rocky slopes. Those starting on the northern end will have the benefit of starting in the town of Örnsköldsvik, with all its comforts and supply options. Those starting on its southern end will have to make their way to the trailhead at the foot of the High Coast Bridge first. There is a hotel here, but no practical camping spots.
The High Coast Trail is divided into 13 sections, most of which can easily be walked in half a day, allowing most hikers to walk 2 sections a day on average.
---
Want to get into all the details of Sweden's High Coast Trail? Their official website offers overview maps and detailed section information.
---
One highlight of the trail is Skuleskogens National Park, featuring imposing rock cliffs, canyons and even some spacious seaside (free) cabins for those willing to make a slight detour! A downside of the High Coast Trail is that it often winds its way through more populated areas, where some sections force you to share the road with cars and other traffic. These sections are easily skipped by taking the occasional bus.
For your convenience, I went and created the route in Komoot. Check it out below!
To download the route to your phone or GPS device, simply click the "Discover more" link underneath the map to go to my Komoot page. Once there, select "Export to GPS device" in the right-hand menu to download a GPX file. You can then load this GPX file onto any compatible GPS device (or load it with most navigation apps) to view the route on the go!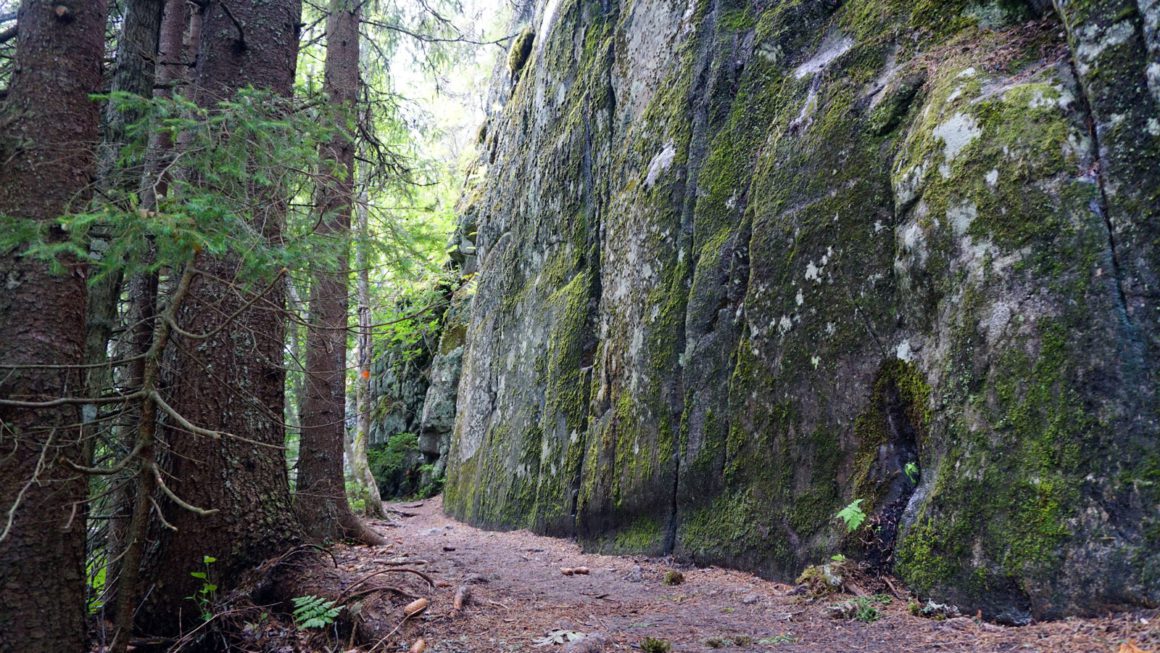 The Gear
Bringing the right gear will make the difference between an uncomfortable slog or an incredible trip full of happy memories. However, bringing too much will undoubtedly result in a heavy pack (and possible injuries). Don't forget to calculate a few extra kilos for food and water!
To help you balance your pack weight, I will list only what I consider to be the essentials for a multi-day hike here; I'll leave it up to you how much extra gear you want to bring.
Comfortable hiking boots or shoes. Sweden's High Coast Trail can get quite steep and uneven in places, so I'd recommend high hiking boots of at least A/B category if you're carrying a bigger pack. Experienced hikers can stick to lighter footwear.
Comfortable backpack. The fewer items you bring, the smaller your pack can be. Just make sure to leave enough room for food and water!
Lightweight tent(when camping).
Season-appropriate sleeping gear(when camping). A sleeping bag and whatever item you prefer to sleep on. Just make sure to prepare for the season's nighttime temperatures!
Season-appropriate clothing. Light and fast-drying in summer, but carry an extra warm layer! Be mindful of low temperatures in spring and autumn as well. Rainproofs come in handy in all seasons.
Cooking gear and fuel(when camping). Unless you plan on eating cold rations for a few days, bring something to heat up your food or make tea with!
Water reservoir or water bottle. Either get a lightweight water reservoir for your backpack or a large drinking bottle of at least one litre (33 oz). I always bring a lightweight water filter for those occasions where I can't trust the water quality.
Map or GPS (and navigational skills). Although the High Coast Trail (and most trails in Sweden) are well-marked, it can never hurt to have an idea of where you are and what's ahead. If you're walking your first long-distance trail, this will be a great opportunity to train your navigational skills.
Medkit and basic first-aid skills. As with any multi-day hike, a certain degree of self-reliance is always a good thing.
Mosquito repellant (in June-August). Trust me, you'll thank me later.
Sunscreen. Just in case.
Swiss army knife or multitool. Don't leave home without it.
A (phone)camera. For those memorable views.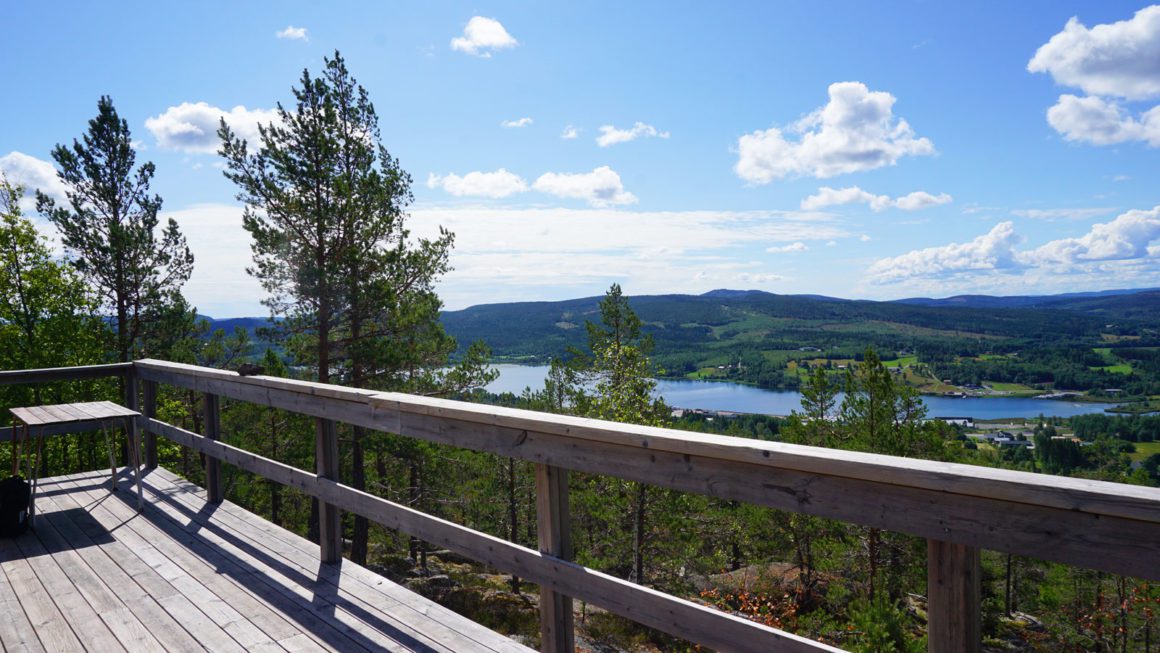 The Cost
Sweden is not a cheap destination. If you're looking to cut costs, a small amount of planning goes a long way!
Getting there
From Stockholm, regular trains leave for Sundsvall, Härnösand and Örnsköldsvik. Depending on the distance, this will set you back anywhere between 280-780 SEK. Note that the price of a train ticket in Sweden depends on the time of day and availability of seats, so price amounts can vary quite a bit.
You could also choose to go by bus from Stockholm, which will cost between 400-600 SEK. Bus tickets are more reliably priced, and are usually cheaper than the train fares (unless you are willing to take night trains or early trains).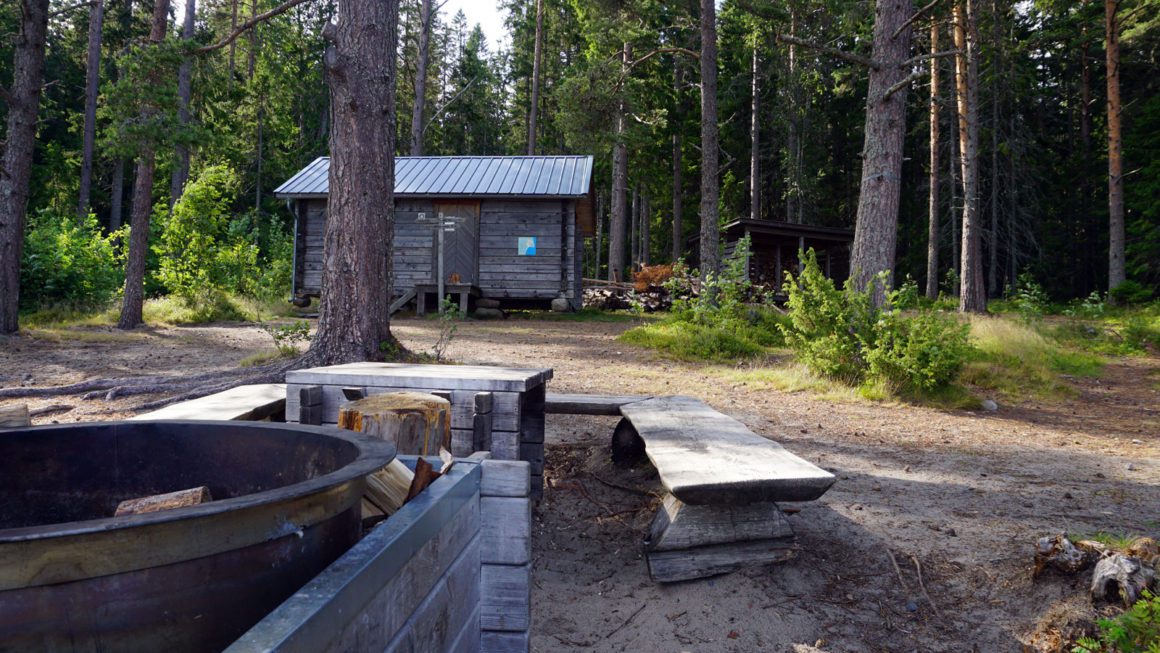 Food, drink, accommodation
Sweden's average cost of living is about 25% higher than the European average. While still cheaper than Norway, budget travellers will do well to shop smart and avoid gas stations or convenience stores and shop at larger supermarkets instead.
Hotels and hostels will be pricy as well, the cost depending entirely on the type of stay you book. Campsites vary in price, the cheapest usually starting around 140 SEK for a single tent pitch without electricity, with the average campsite pitch usually between 200-350 SEK.
The cheapest option is of course to camp in the wild, something that is completely legal in Sweden, provided you take your trash and leave no trace. But the best part about hiking the High Coast Trail in Sweden has to be the free cabins that can be found all along the trail. To find these gems of vagabond luxury, all you need to do is check this site.
---
And this concludes this Practical Guide to hiking the High Coast Trail in Sweden. As always, I'm available to answer any questions you might have. Contact me on social media or feel free to leave additional tips or questions in the comments below!
See you on the Trail!