The hot sun made the trail sweaty. Not the honest I've-been-walking-up-this-hill-for-hours kind of sweaty, but the mucky, sticky, inescapable sweatiness of a Southeast Asian jungle that makes you want to consider moving to the North Pole for an indefinite amount of years. In short, definitely not Scottish weather. Not the kind I expected, anyway. As soon as I reached the beach at the end of the track leading me along Loch Lomond's steep eastern shore I quickly took a dive in its cooling waters. This wet act of defiance to the terribly un-Scottish temperatures marked the end of a day's walk for me, the third day of my hike along the West Highland Way.
Scotland's West Highland Way is one of many long-distance trails leading walkers of all kinds along the country's fabled glens, hills and lochs. It is probably the most walked of all these trails however, and anyone trying to avoid too many people, groups of walkers or an abundance of accommodations might be better off walking this trail off-season or trying one of the more remote trails such as the Cape Wrath Trail (on which I continued my hike along Scotland's West Coast).
That being said, it's popular for a reason! One of the West Highland Way's main charms is that it is a relatively moderate trail that nonetheless takes you across some of the best country the Scottish Highlands have to offer. From Loch Lomond's grand views where blue waters lap against green rocky shores to Glen Coe's gorgeously dramatic expanse and Ben Nevis' solemn peak looming over its green Glen, there is something here for everyone along this trail.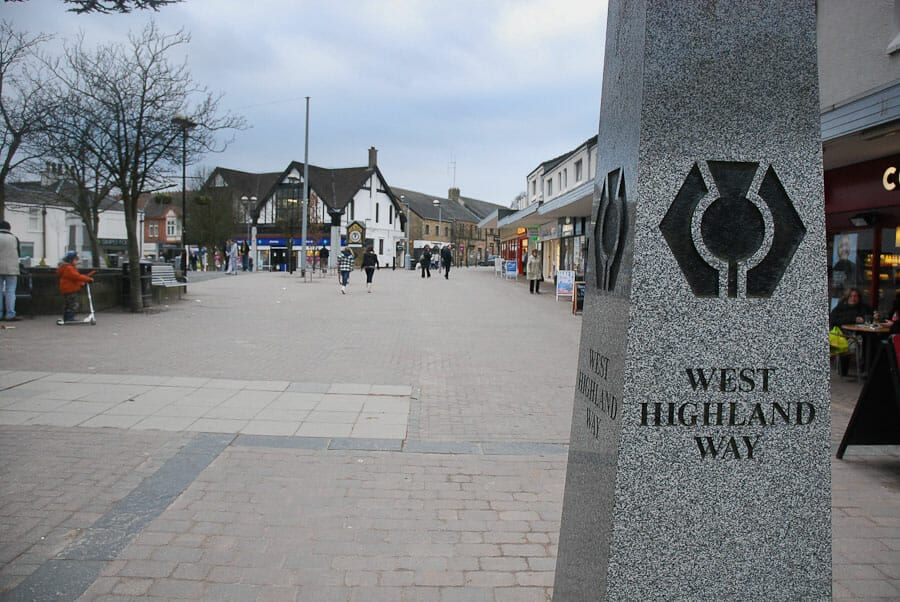 Wary beginnings
Leaving from the neat little town of Milngavie (actually pronounced "Mullguy") on the edge of the Greater Glasgow area, I set off earlier that week on a bright Tuesday morning with a backpack full of gear and a head full of anticipation. The first day of walking took me along the somewhat cultivated area around Strath Blane and Drymen, with well-trodden paths, asphalted roads and even the bed of an old railway allowing me a rapid pace through the fields and hedgerows. I ate my lunch sitting next to the Craigallian Fire monument which commemorates the adventurous spirit of the out-of-work outdoor pioneers who gathered here during the Great Depression of the 1930's.
This spot provided a warm fire by which those jobless but ambitious people told their tales of daring. While climbing mountains and braving hills they started what would become a nationwide passion for the wild places, not to mention the Scottish notion that all of those places should remain accessible to everyone. I raised my flask of whisky in salute, poured a small offering for good fortune and went on my way.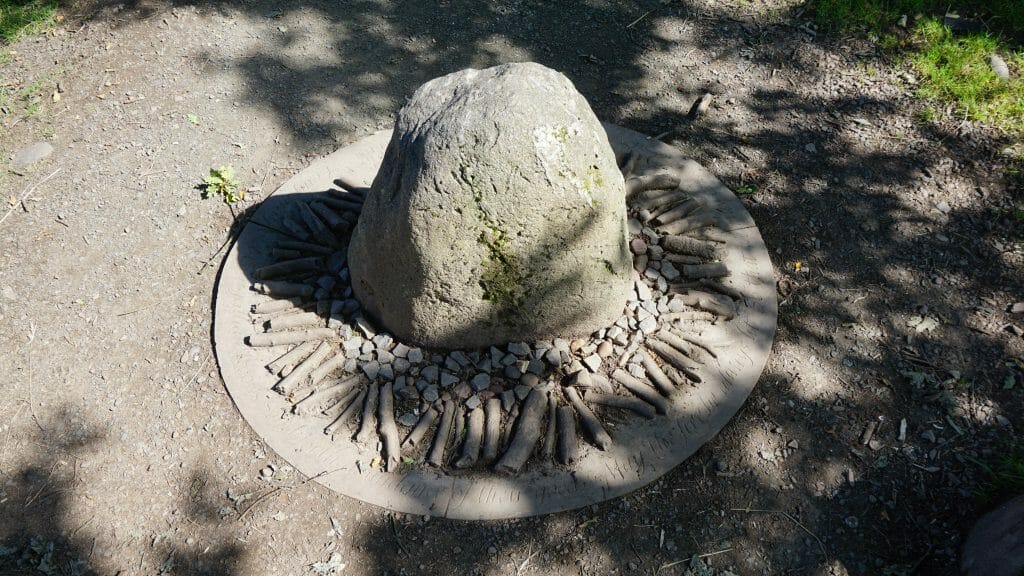 The reality of walking a crowded trail like the West Highland Way soon became apparent when I crested a hill and was greeted by a man who promptly introduced himself as a licensed doctor. The way he carefully approached me with his ID in his hands -like a hunter would when trying not to startle a frightened wild animal- made me wonder about the sort of people this man has had to deal with during these busy days on the trail. I imagined some faded, overworked couple leaving the safety of their suburban enclave to go on some Great Adventure, meticulously planning the whole thing. Then finally starting their walk in some scary foreign country like Scotland, decked out in fanny packs, bermuda shorts and safety whistles, only to find themselves being startled around every corner by all these frightening unknowns like other walkers, rustling leaves or worst yet: rugged-looking locals claiming to be doctors.
That's what he was though, a certified trail-doctor administering advice to the thousands of walkers walking this trail every year. It mostly came down to "Don't make a mess, leave everything as you found it, hydrate sufficiently, and get your bald noggin out of the blazing sun." The man did stress the hydration and the keeping my head out of the sun, as he warily eyed my large pack and the blatantly uncovered glorious dome of skin on my head. I assured him I had enough water to last two days and that my pack was only this heavy because I was planning on not just walking the West Highland Way, but the entire length of the Highlands, and that yes, I probably was an idiot for not wearing a hat but I did put on some sunscreen that morning.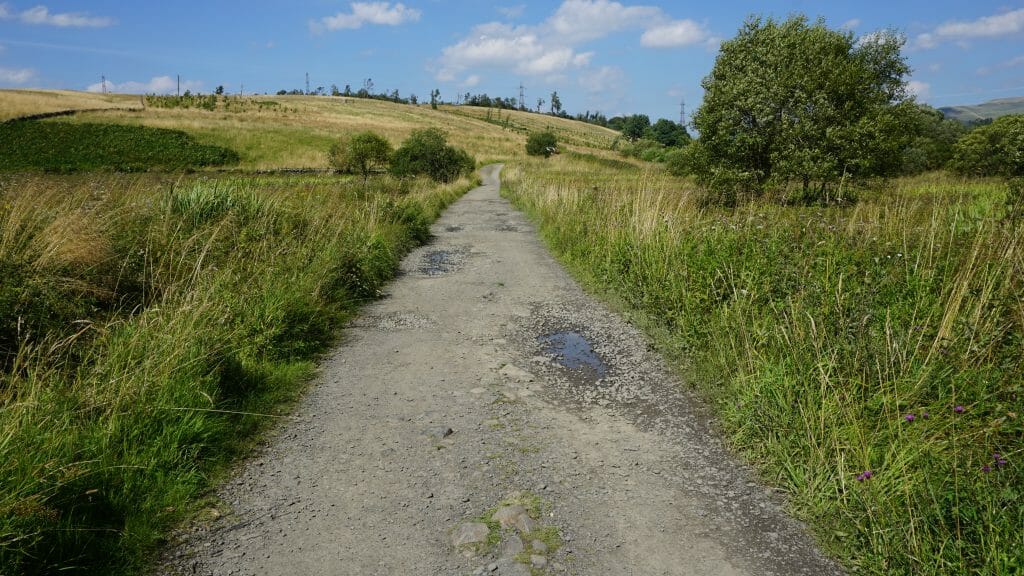 Probably sensing he had nothing more to teach me, he nodded and gave me one last curious look before turning around to carefully greet (ID at the ready) the next few walkers coming over the hill. This encounter did leave me slightly unnerved. Would the entire trail be like this? Overcrowded footpaths where unprepared walkers were struggling along, supported by a wide array of luggage carrying services, supply stores and trail-doctors handing out newbie advice around every corner? Putting further fears of a Scottish theme park trail experience out of my head, I continued on my way towards Loch Lomond National Park, where I quickly learned that even a well-trodden path can have dirty tricks up its sleeve…
Loch Lomond's charm
Scotland is not really known for its high peaks; its highest point, Ben Nevis, reaches up to a moderate 1,345 metres above sea level. So any hill-climbing in the Highlands is bound to be a relatively short, if somewhat intense undertaking. Especially when you're a Dutch guy climbing his first hill along the West Highland Way in 25° Celsius weather with a large backpack strapped to his somewhat out-of-shape body. Suffice to say, by the time I reached the top the view wasn't the only thing taking my breath away.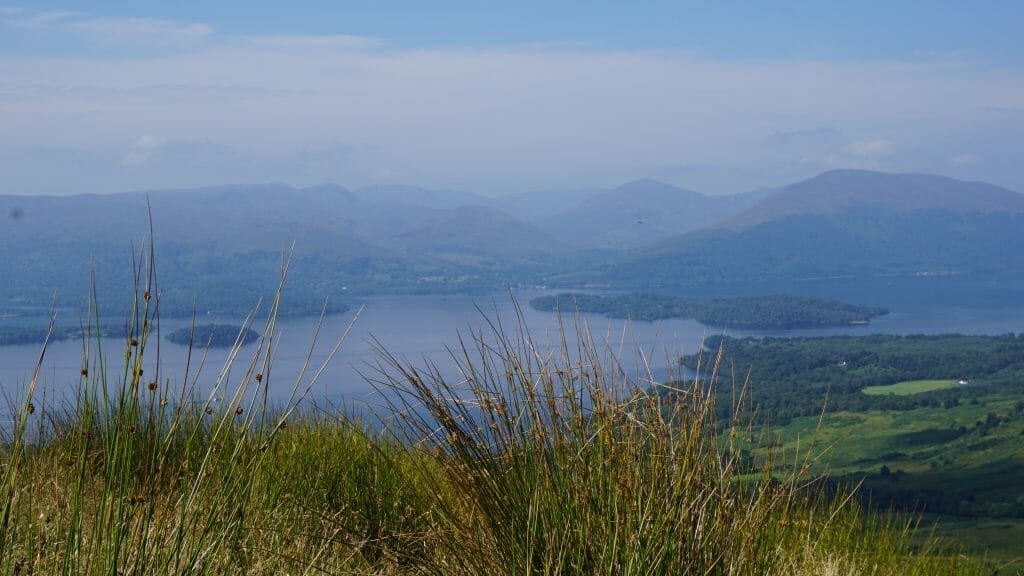 And what a view it was. From the top of Conic Hill I had my first unobstructed look at the blue expanse of Loch Lomond. This is one of Scotland's larger lochs, and it marks the point where West Highland Way walkers start entering the Highlands proper. Its shores are noticeably green, its waters blue and with the weather the way it was, the views reminded me more of some idyllic Alpine lake than what I had in mind when imagining a Scottish loch.
The beauty of the area works against itself though, as Loch Lomond's popularity has forced the local authorities to declare a set of special camping byelaws that apply from the 1st of March to the 31st of October. These byelaws effectively turn most of the loch's eastern banks into a sort of restricted camping zone where camping is forbidden within its limits. Only by the good grace of a friendly ranger from the Ben Lomond Ranger Service was I directed to a secluded camping spot just outside the northern zone limits, right by the lake's shore. On this beautifully secluded spot I would quickly learn a very basic lesson in foregoing romantic notions on open-air camping during Scottish midge season…
This story is continued in part 2.