So after regaling you with tales of my adventures along Scotland's West Highland Way, I think it's time to get down to the details now: How, When, How Much and What? Well, let's get to it!
How to start
The West Highland Way is not a particularly challenging trail. That being said, it should also not be underestimated! For the experienced hikers, there will only be a few sections that will (slightly) strain your endurance, especially when walking the trail with a large backpack. For those of you new to long-distance hiking, I suggest you simply take it slow and let the circumstances of your trip decide whether to push yourself or not.
There are two ways to walk the trail; from Milngavie to Fort William (South to North) and alternatively from Fort William to Milngavie (North to South). Both starting and ending points are very easily reached by train, car or buses. Want my advice? Start in Milngavie. The scenery just gets wilder as you walk further North, providing an ever-increasing crescendo of sights, challenges and elevation!
Milngavie itself has a few options in the way of stores and accomodation, but its proximity to Glasgow ensures there's plenty to choose from. Fort William has, in spite of it being a rather small town, a good selection of stores, hotels, hostels, B&B's and inns available. There's also a campsite located a little way up Glen Nevis, if you don't mind walking three kilometres to get there.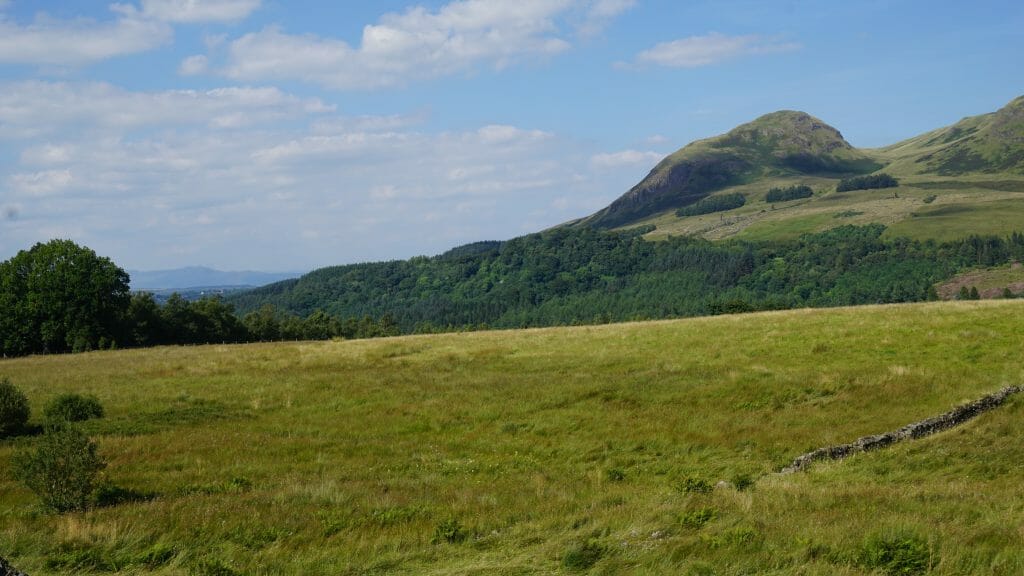 When should I go?
It usually takes most walkers around 6-8 days to walk the West Highland Way. Depending on the season, you will either encounter lots of other walkers and fully booked accommodation in summer –or rarely another soul and some closed facilities during winter. Overall, May and October are usually cited as being relatively dry and (mostly) midge-free and therefore great months to walk the Way.
Just take care to take the necessary precautions when planning the walk in summer (sunscreen, midge net) or winter (thermal underwear, warm headgear).
How much will it cost me?
With the West Highland Way being one of Britain's most popular trails, there is never a shortage of hotels, pubs, snack shacks, hostels, campsites, honesty boxes, stores or other places to spend some money. So when answering the question of how much money you should save for this trip, the answer would simply be "However much you plan to spend". The sky's the limit, and all that. So for reasons of simplicity, I will simply cover the basics here; the minimal amount you should take into account when planning this walk.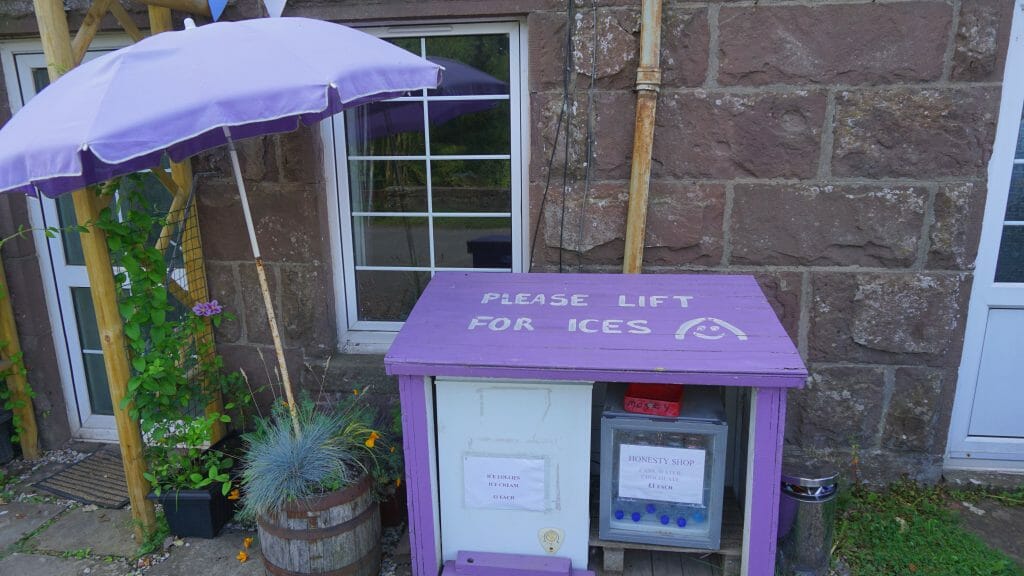 ---
Note: Prices described here are prices as they are in high season (May-September). Expect to pay around £5-10 less during off season!
---
For those of you planning to go on the cheap or, like myself, simply prefer sleeping in the outdoors, carrying a tent will provide you with the freedom to pitch it wherever you like, for free! With the exception of the Eastern Loch Lomond area, you are free to camp anywhere along the West Highland Way, provided you adhere to the outdoor code and leave no trace. Fancy a hot shower? There are a multitude of campsites available as well, with tent fees ranging between £6-15 per person. Most of these campsites also have tiny cabins (also called 'hobbit houses') for rent that will set you back around £16-25.
Don't feel like camping and lugging that tent around? There are hotels and hostels spread all along the West Highland Way, allowing you to plan your itinerary around them so that you'll have a warm bed at the end of each day. Take care to book in advance! Especially in high season these accomodations tend to be overbooked and some might even be closed during the winter months.
Most hotels will cost you around £40 for a single room (with prices upwards of £60 for larger or more luxurious rooms), while most hostels start their pricing around £20-25 for a dorm bed.
---
Check the West Highland Way's official website for up-to-date accomodation listings and available campsites.
---
Personally, I spent a total of around £260,- on my trip along the West Highland Way. I carried my own tent and wild camped most of the nights. I only splurged on the occasional pint of ale and a hearty lunch here and there. I carried most of my food (breakfast, lunch and dinner) myself, mostly consisting of lightweight dehydrated meals, porridge oats with milk powder and army ration biscuits.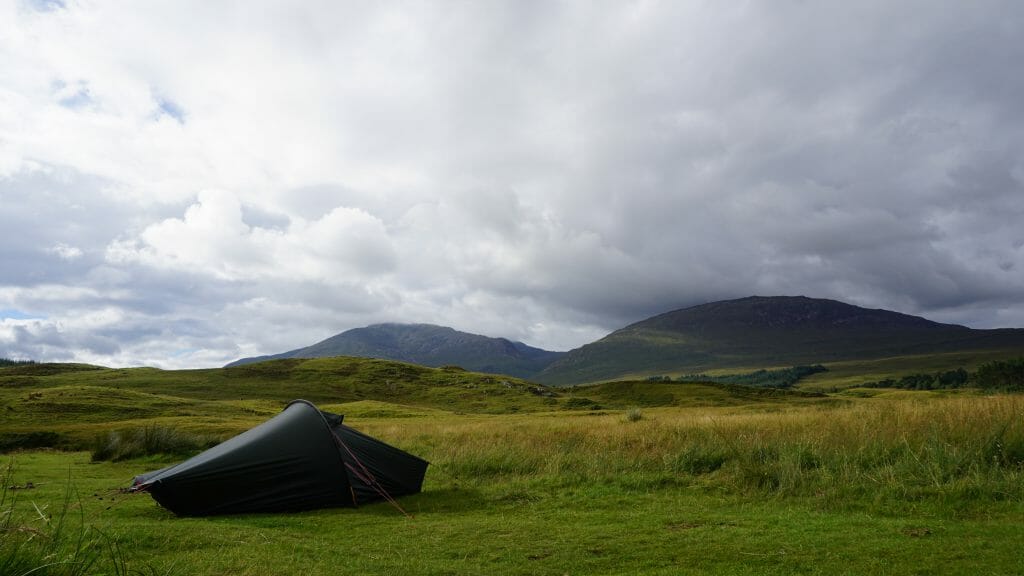 What should I bring?
As with most hiking adventures, bringing the right gear will greatly improve your experience. A gear list is a very personal thing, however, as everyone will have a different idea on what to bring. Some will try to keep it as lightweight as possible, carrying lighter loads but sacrificing some comforts.
Others will tend to bring a little more, especially when carrying a week's worth of food or when travelling onward to wilder places afterwards (as I did). Regardless of your personal preferences, I've put together a basic gear list with items you should, in my opinion, definitely bring along when walking the West Highland Way:
Good walking shoes. Can't go without them. Waterproof, ankle-high walking boots (A/B or B category) will do the trick.
A sturdy backpack. Or something less sturdy perhaps, as long as it's comfortable and strong enough to handle all your items!
Waterproof outer shell. Scotland is a wet place. A decent waterproof hardshell jacket and some waterproof overtrousers are a must-have!
(In summer) Light, quick-drying clothing. Three sets of underwear, three shirts, a fleece top and two pairs of pants will be more than enough. Bringing quick-drying clothes means your laundry will be dry when setting off the next morning!
(In summer) Sunscreen and/or hat
(In winter) Thermal underwear and warm clothing. Bring an extra pair of socks and an insulated jacket as well!
(In winter) Warm gloves and a warm hat. Don't underestimate the body heat you lose when going bareheaded.
First aid kit. Make sure to pack items to treat sunburn, tick bites, blisters and small cuts.
A water bottle. Don't use regular plastic bottles, as they tend to release toxins into their contents with prolonged use or when warmed!
Snacks. For those mid-day energy boosts.
(When camping) Tent or tarp and sleeping gear. Be sure to bring a warm sleeping bag in winter.
(When camping, optional) Cooking gear, fuel and food.
(In May-September) Midge net and midge repellant. Get a special midge net with smaller mesh holes than a regular mosquito net to cover your head. Trust me.
Quick-drying travel towel.
Swiss army knife or multitool. Don't leave home without it.
A camera. Scotland is way too beautiful to not take pictures!
Guide book and/or map (optional). This comes down to preference, as the West Highland Way is well signposted. Personally, I like to have a clear picture of my surroundings. A guide book will offer lots of contextual information as well.
Mobile phone, emergency whistle. Better safe than sorry!
---
Instead of a large backpack, you could decide to only bring a day pack of about 20 litres on your walk and have the rest of your belongings carried to your next booked accomodation by a luggage-carrying service such as AMS.
---
In conclusion
Make sure you're prepared and physically fit enough to take on several days of walking slightly rugged and elevated footpaths, and you'll encounter no problems. Plan a little extra in your budget to spend on emergencies and a little fun every now and then. And if your time schedule allows it, be sure to visit the rest of bonnie Scotland as well!