When travelling in Japan, there is a single, universal thought that all visitors have at some point: "They sure do things differently here." Whether it's socialising, eating, drinking or even using public transportation, the Japanese have their own way of doing things. Therefore, it's no surprise that camping in Japan comes with its own set of quirks and difficulties for outdoor-minded foreigners wanting to explore the country.
First, let's get one thing straight: camping in Japan is an absolute joy and often has you spend the night in stunningly scenic surroundings. It lets you explore Japan in a cheap and more independent way while showing you parts of the country that are usually not frequented by most tourists.
However, it can be a confusing or sometimes even downright negative experience for Westerners expecting the same level of accessibility, area coverage, consistency in quality and pricing you would find in other highly developed countries. But with a little research, planning and a flexible mindset, navigating Japan's campsites can be a breeze for even the most inept adventurer.
Glamping versus camping
Thanks to an old, established travelling culture centred around the use of a sizeable network of ancient post stations, guesthouses, ryokan and hotels, camping in Japan is considered somewhat of a niche culture, at best.
Although there are plenty of Japanese enjoying short camping trips on the weekends, most of Japan's camping culture is centred around taking the family out to a campsite by car, barbecuing in the evening and possibly spending one night camping out. More often than not this will include setting up a luxurious spread while 'glamping out' in style, the car fully loaded with chairs, tables, dinnerware and other amenities.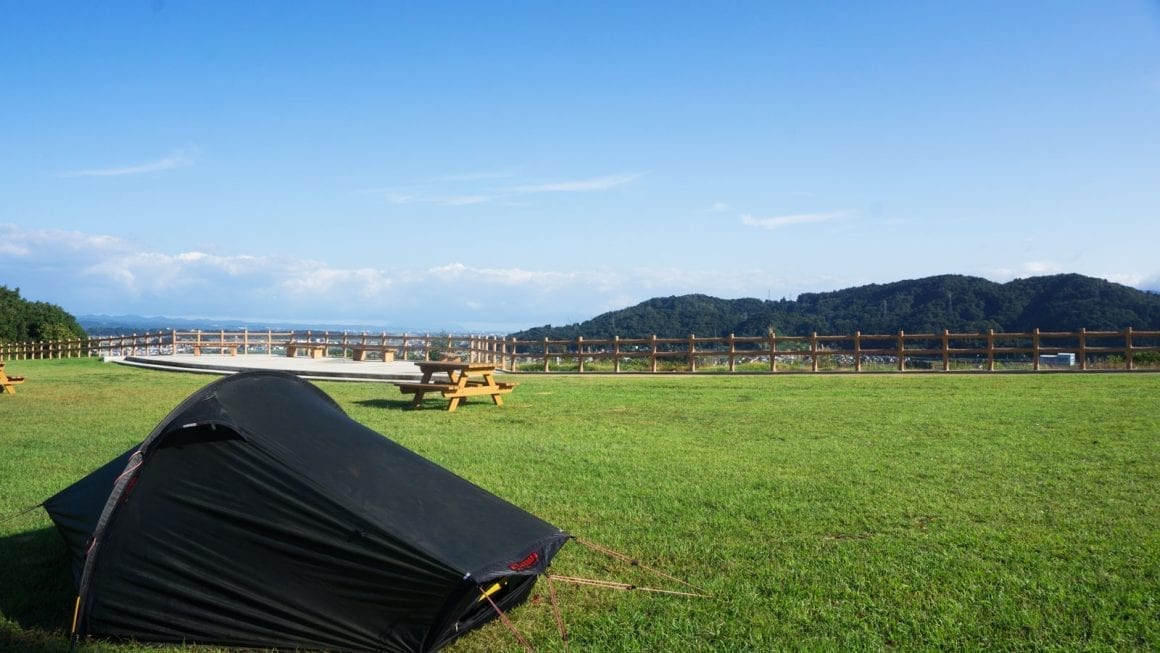 The concept of camping as a way to spend longer periods in nature –without staying in hotels or guesthouses– is something not yet widely practised in Japan. Even among the country's long-distance hiking routes the focus, in terms of accommodation, lies more on traditional tourist lodging than camping.
For independently minded tourists this means that it can be somewhat challenging to find convenient and cheap official campsites when travelling around Japan without a car or motorcycle.
Location, location, location
With most of the country consisting of urbanised lowlands, developed farmland or dense, overgrown rainforest, your main concern will be locating a suitable camping spot. The low demand for campsites in traditional tourism means that very few designated campsites can be found in convenient locations near villages or main traffic routes. With the exception of popular outdoor destinations like Hokkaido, most campsites are instead tucked away on higher ground, in national parks or in other out-of-the-way places.
While this poses a slight logistical problem for anyone not travelling by car or motorcycle, it also means that these campsites tend to be in beautiful remote locations, often near viewpoints and natural points of interest. Still, long-distance hikers and cyclists will find that climbing hills at the end of each tiring day of exercise isn't exactly an ideal premise.
For those looking for a bit more flexibility, wild camping is a perfectly viable option. Bringing a hammock tent would be your best option, as it effectively eliminates the need to look for a suitable camping spot! Another option is to make use of Japan's rather unrestictive camping laws and set up camp in public parks or even next to highway rest areas. Just make sure you don't leave any rubbish and pack up your tent early in the morning, and you should not get into any trouble. A big advantage of this urban camping method is that you'll almost always have access to public restrooms or even convenience stores!
---
To help with planning your camping trip, there are several websites dedicated to mapping out campsites around Japan. This page offers an expansive overview of campsites and links to their individual websites!
---
A matter of cost
Another thing to keep in mind is the inconsistency in pricing among campsites. While most municipal campsites will cost you between 300 and 1000 Yen a night, some privately owned campsites might end up costing the same as a big city hostel with prices varying between 1000 and 3000 Yen. And this doesn't always guarantee quality facilities. The owner of a shoddy, sloped patch of grass and a cold outdoor shower can still charge you a premium since there won't be another campsite around for many kilometres.
Luckily, there is a dedicated community of Japanese camping enthusiasts that have set up an online map detailing free campsites and tent-friendly rest areas all over the country!
To prevent any expensive surprises, travellers on a budget will do well to check the websites of potential campsites before setting off. Just make sure you have a way of translating these websites in your browser!
---
Looking to save money for your hiking trip to Japan? Check out my tips on how to get cheap hiking and camping equipment!
---
A final verdict
While the general quality and accessibility of campsites calls for a more creative solution every now and then, camping in Japan is still a viable way of keeping costs down while exploring this country. With the local outdoor culture mostly centred around day trips and short overnight stays, it can be somewhat of a challenge to find suitable, cheap campsites every night.
But with some creative insights, wild camping in public parks, rest areas or around national parks offers a good alternative to more official campsites.
Or you could just choose to bring a hammock and not have a single worry, of course!