This is the third part in a three part series. Click here for part one and part two!
Open fields and the Bridge of Midge
After having taken me across meadows, lakeshores and forested hillsides of the Loch Lomond basin and Glen Fillan, the West Highland Way now guided me across a completely different scenery. Gone were the many trees and hillocks that obstructed my view the past days. Open fields stretched out to the north and south, while to the east and west steep hillsides dominated the landscape. The West Highland Way lead me on towards Bridge of Orchy, where walkers who started their day in Crianlarich or Inverarnan can decide to spend the night, and those who started in Tyndrum often stop to rest and have lunch.
I decided to do the latter and made myself comfortable on the upper balcony of the Bridge of Orchy Hotel, giving me a spectacular view of the hills beyond. Whisky fans like myself will be glad to know the hotel stocks an excellent range of single malts, as well as a wide variety of local craft beers!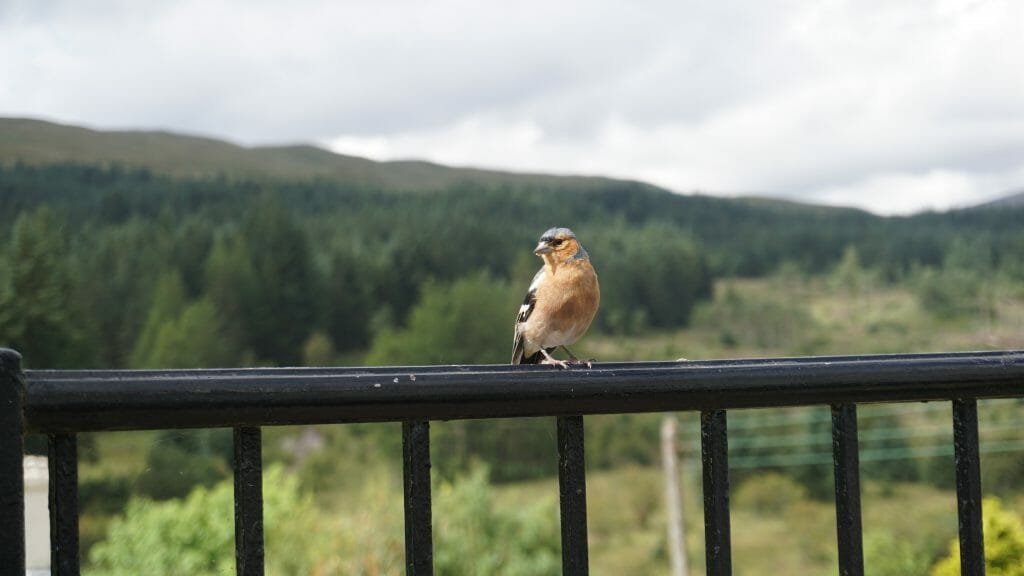 Besides offering a great place to rest, Bridge of Orchy also marks the spot where the West Highland Way finally steers away from the company of the highways that have been, until now, a constant background presence. After passing the Inveroran Hotel a few hours later, I found a great camping spot right by an old stone bridge. Well, to be precise, it would have been great if not for the giant swarm of midges terrorising the place. Even though the wide open fields around me provided a beautiful stage for the oncoming sunset, the wind almost completely died down, the midges got into a frenzy and I suddenly remembered I had some reading to to in my bug-free tent.
The next day saw me walking uphill towards one of the West Highland Way's absolute best parts, the Rannoch Moor. This already impressive expanse of moorland was made even more dramatic by the fact that for the first time during my trip I experienced a scene of total silence. No highways, no trains, no other humans, not even birds. Just me, the scenery and the wind rushing past my head.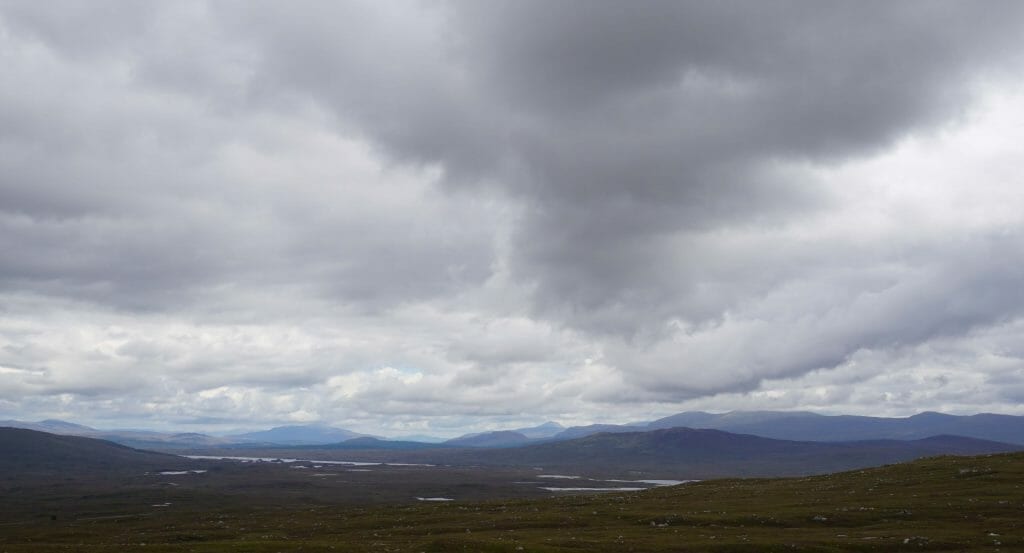 Being a Dutchman used to the crowdedness of seventeen million people living on a tiny speck of (mostly reclaimed) land I spent a good half hour taking in this profound setting. This was what I had come all this way to experience: the total silence and dramatic scenery only a stretch of wilderness like this can achieve.
Betrayal, murder and a bad knee
After a good two hours of walking the Rannoch Moor led me up to the infamous Glen Coe. Its gloomy gaping maw greeted me as the West Highland Way curved around a last hill and wandered on towards King's House. Thick and heavy clouds trapped between the Glen's rising slopes made the scene look like something straight out of a dark Tolkien fantasy, and turned a sunny afternoon into a more gloomy evening as I kept moving forward.
The infamy of Glen Coe does not only derive from its perpetual gloomyness though. In 1692, after twelve days of professed friendship and hospitality, (and in a sort of reverse 'Red Wedding' fashion) soldiers under Captain Campbell slaughtered their MacDonald hosts in what would become known as Mort Ghlinne Comhann, the Massacre of Glencoe. All because the clan chieftain was a bit tardy in proclaiming his allegiance to the new king, William II, and because the highlands wouldn't be the highlands without some good old clan feuds. Bloody politics indeed.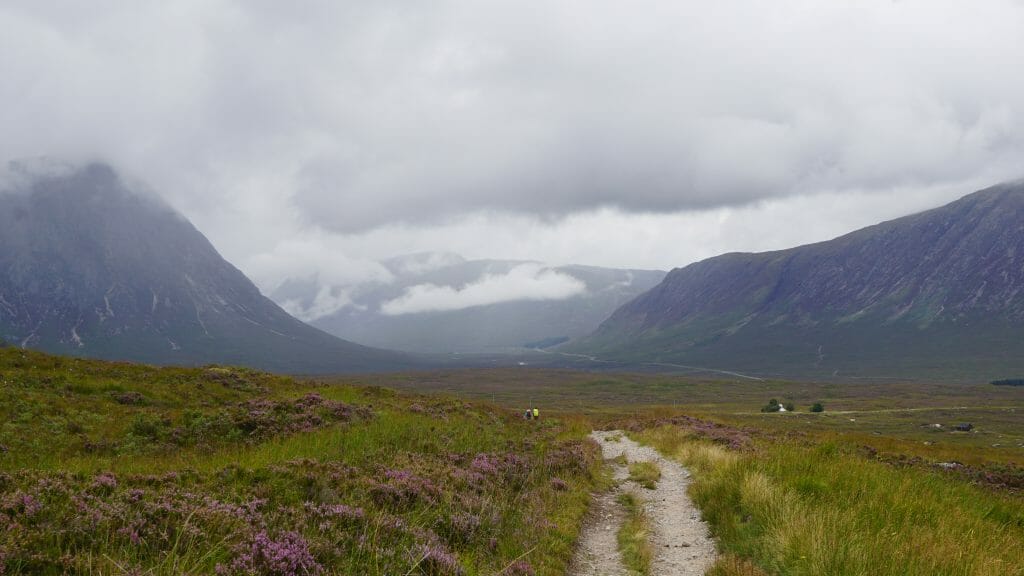 Next on the trail is a section called the ´Devil's Staircase´. Despite its name and reputation, this roughly two-hour climb isn't really all that terrifying. As long as your knees are in perfect shape; which mine, it turned out, weren't. I had taken my liberties with 'taking it slow' the past week, and made a habit out of making the past few days a bit longer than I originally planned. All in all, when I reached the top of the Devil's Staircase my right knee was protesting quite heavily and I was desperately looking for a spot to make camp and call it a day.
Luckily I found the spot I was looking for a mere five- to six hundred metres from the Staircase's summit, a small piece of grassy flat earth besides a fast-flowing water source amidst the marshy and uneven slopes all around. I was joined here by a fellow hiker who also saw the significance of such a rare find. We didn't get to enjoy much of the scenery though, as we apparently weren't camped up high enough to be rid of our friendly neighbourhood midge swarm. Eating our dinner inside our tents, we bade each other a good night and went to sleep.
A forced day's rest
Morning saw us waking up to an epic scene of low-hanging clouds coming over the nearby ridge, covering the high slopes around us in heavy fog and rain like something out of a cheesy Celtic music album cover. The midges returned in force as well, so we had no choice but to don our raincoats and midge-nets and break camp as quickly as possible. My temporary companion was a lot less tardy than I was and went ahead, escaping the swarm. I followed soon after, but never caught up. My knee hadn't recovered overnight and the uneven trail made the descent somewhat of a challenge for my damaged joint. Limping and leaning heavily on my trekking pole I made it downhill to the town of Kinlochleven, where I decided to take it easy and rest up for a day before continuing further. Slow and steady wins the race and all that.
Luckily Kinlochleven provides an excellent spot to kick back and relax for a while. Besides having all the necessities such as a supermarket and pubs, climbing enthusiasts will be happy to know the town also boasts the largest indoor ice-climbing wall in the world. The Blackwater Hostel and Campsite not only provided a perfect opportunity to do laundry, but also to dry all my gear in a proper drying room!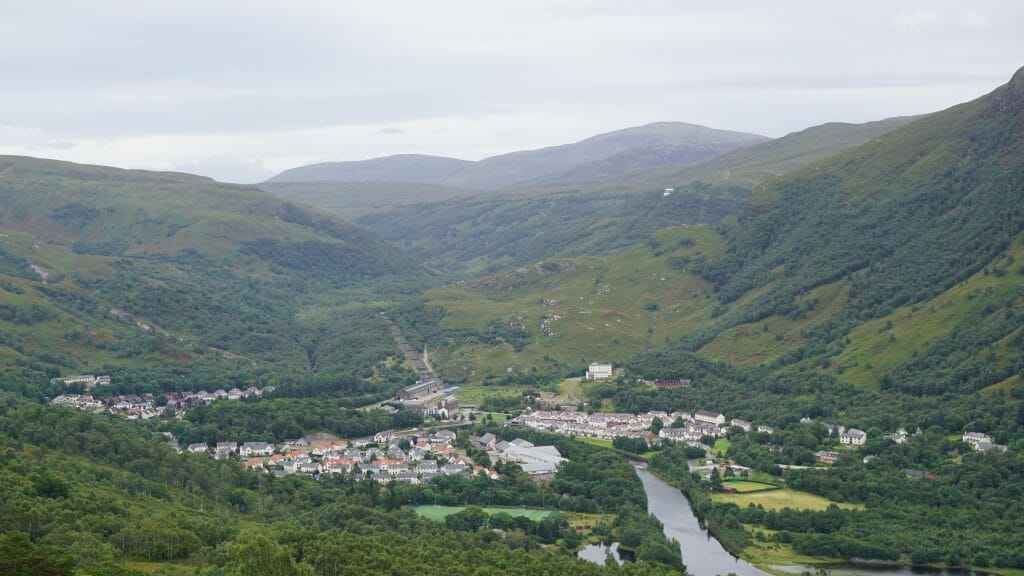 After a day of resting and healing up my knee I started the climb up the path leading out of Kinlochleven. My knee still hurt, but a lot less than two days ago. I figured that to be a good thing and kept following the West Highland Way into Lairig Mor, or 'The Great Glen'. The abandoned ruins of old homesteads and an impressive silence mark this stage as the trail winds its way through a glen that is only accessible by pedestrians and the occasional estate worker. My earlier fear of an overcrowded trail had so far proved itself wrong, although at this point several groups of teenagers appeared behind me with music blasting from speakers fastened to their backpacks, all part of some heavily organised Belgian youth-excursion of sorts. From the looks of them they didn't seem particularly interested in their surroundings, or hiking trips in general. I wondered if their whole excursion wasn't just a good excuse for their parents to be rid of the mongrels for a week. Not willing to let them ruin the moment's serenity, I let them pass and allowed the rising wind in my back to carry the noise away from me.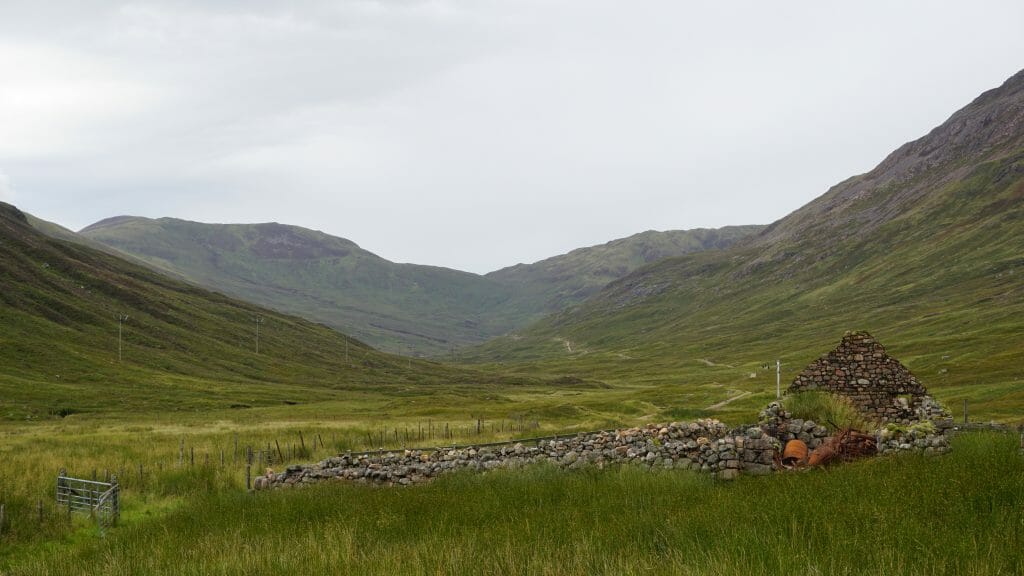 Way's end
As I made my way towards Glen Nevis and the final stages of the West Highland Way I rounded a corner, the hills on my right fell away and a stunning view of Ben Nevis greeted my eyes. A ray of sunlight broke through the cloudy blanket above, illuminating the southern slopes of Britain's highest mountain. Its rounded summit played a slow game of hide-and-seek in the clouds drifting by. This first sighting of Ben Nevis signalled the end of a week of walking, swatting midges, wiping both sweat and rain from my face, being stunned by the scenery, walking some more and meeting a variety of people from all over the world. It's been a good trip, where even the crowds were less than I expected and where the trail itself proved just as magnificent as I hoped.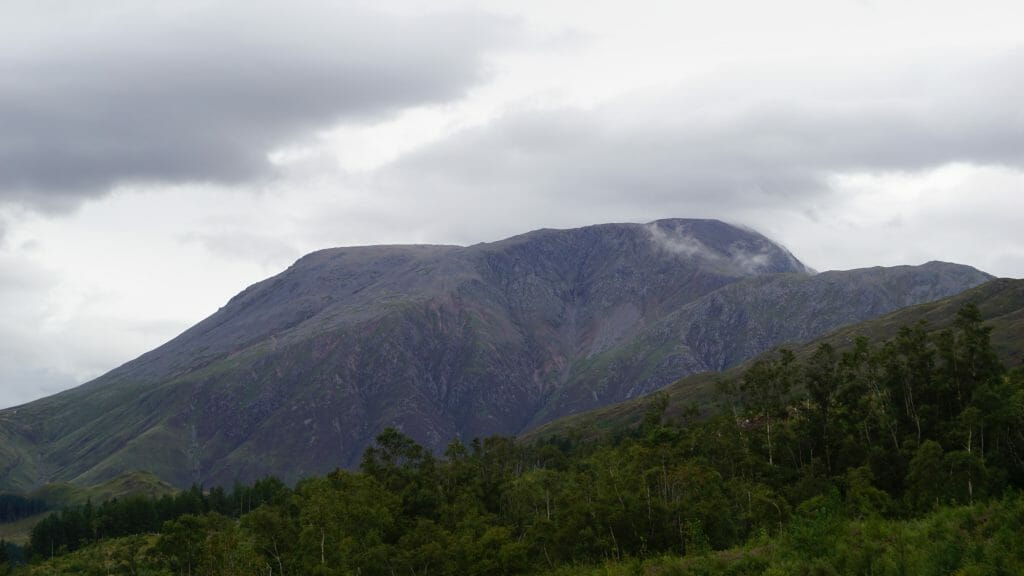 I reflected on these things as I walked down into Glen Nevis to eventually reach the trafficked C1162 leading into Fort William. The final few kilometres provided a somewhat boring, asphalted slog into town after the impressive views only hours past. Nevertheless I was eager to have a few days filled with something other than walking a trail as my main exercise!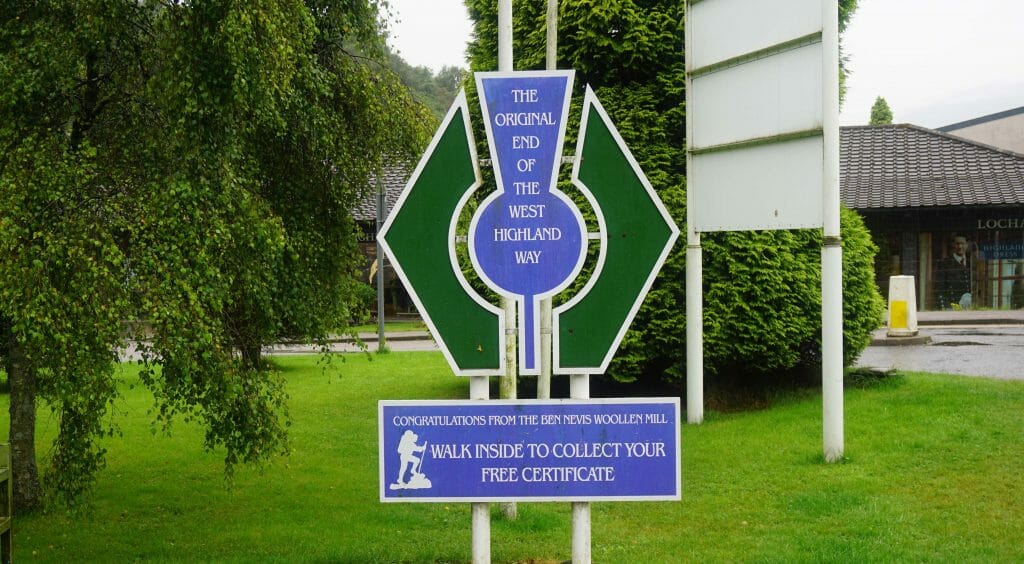 My journey was far from over, but for now the West Highland Way proved to be an excellent first stage of my planned trek across the Scottish highlands. Now I just needed to find a place to sleep in a town that appeared to be fully booked…
This was the third part in a three part series. Click here for part one and part two!