In this series, I look back on my three-week solo hike along the Cape Wrath Trail: Scotland's most challenging long-distance trail. Along this journey through some of the most difficult terrain the Scottish highlands have to offer, I had to deal with marshy trails, missing supplies, friendly Scots and being completely shut off from the modern world. Read on to find out more! Want to read the rest? Click here for part one and part two.
The Shiel Bridge Incident
To cope with the lack of resupply options along the Cape Wrath Trail, I sent ahead several food parcels before leaving for Scotland. This ensured that I had the necessary lightweight hiker meals, breakfast oats and other supplies at hand when I reached Fort William, Shiel Bridge and Ullapool. Calculating the amount of supplies needed for each segment of the trip, along with ensuring they got there in one piece was perhaps the most demanding aspect of my preparations. But in the end, no matter your level of preparation, you will never be able to prepare for the inadequacies of the giant, uncaring machines known as national mail services.
Now Britain's Royal Mail does a lot of good, and it is inevitable that packages get misplaced every now and then when human error is involved. This didn't help me at the time however; a lonesome hiker now stranded in Shiel Bridge, dependent on his carefully calculated resupply package that was now lost somewhere in that great, bureaucratic expanse of mail, post offices, forms and regulations.
John the Campsite Owner proved to be my staunchest ally during that day, helping me find my lost supplies by placing a few phonecalls and finding out that my package somehow ended up with a private delivery company. He even arranged for the package to be delivered later that afternoon, free of charge, and saved the day. Seriously, if you ever find yourself in the area, go camp there!
Despite this remarkable display of Scottish hospitality, the delivery driver apparently managed to drive past Shiel Bridge twice before deciding the time was right and finally dropping off my package. It was now almost three o'clock in the afternoon, which meant a very, very late start. Eager to catch up on hours lost I hurried my way along the trail, passing the high cliffs at the Falls of Glomach, and just barely making it down its steep banks before nightfall.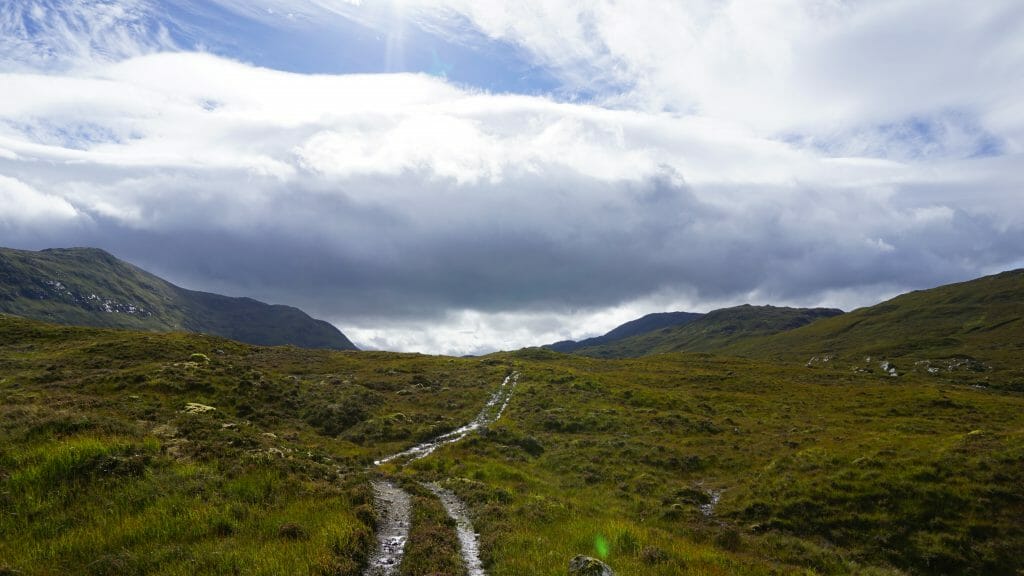 Being Alone
Loneliness can be a funny thing. We usually perceive it as being a sad state of mind, feeling isolated and disconnected from others. But when solo hiking along a remote wilderness trail you'll have to learn to cope with this emotion, for better or worse. This I found out when crossing the area around Beinn Dronaig, a stunningly empty stretch of wilderness where fields of heather, marshy plains and rugged hills dominate the landscape.
Here I realised that after having spent the first week along the Cape Wrath Trail either close to civilisation or in the company of others, I now truly was hiking alone through Scotland's most remote parts. The uninhabited and seemingly untouched landscape woke something in me, a feeling of loneliness, only less sad and more fulfilling. Perhaps it was best described as 'alone-ness', where you feel alone, but not lonely, as if you're finally disconnected in the most uplifting sense of the word.
I followed a pathless, unforgiving route along Beinn Dronaig's southern slopes, plodding through marshland while avoiding sudden pits filled with knee-deep layers of mud. My backpack was still full with fresh supplies, making its 23 kilos (around 50 lbs) the heaviest it was going to be this week. This also meant I stood a greater chance of spraining or even breaking something while hopping (and mostly falling) over these boggy sinkholes. With nobody to come to my aid, my alone-ness now meant I had to be extra careful and take my time navigating the wild terrain.
Despite my rather slow progress I found what passed for something like a trail higher up on the slope, where the remains of an old rusted wire fence still clung to existence. The winds kept picking up at this point, and the air started to smell of stormy weather. With the rising winds in my back, I was almost being pushed along the trail which was now getting better with each step, as if the terrain itself was trying to apologise for my earlier struggles. While almost flying downhill for an hour I reached Bendronaig Bothy right when the sky broke and showers came pouring down.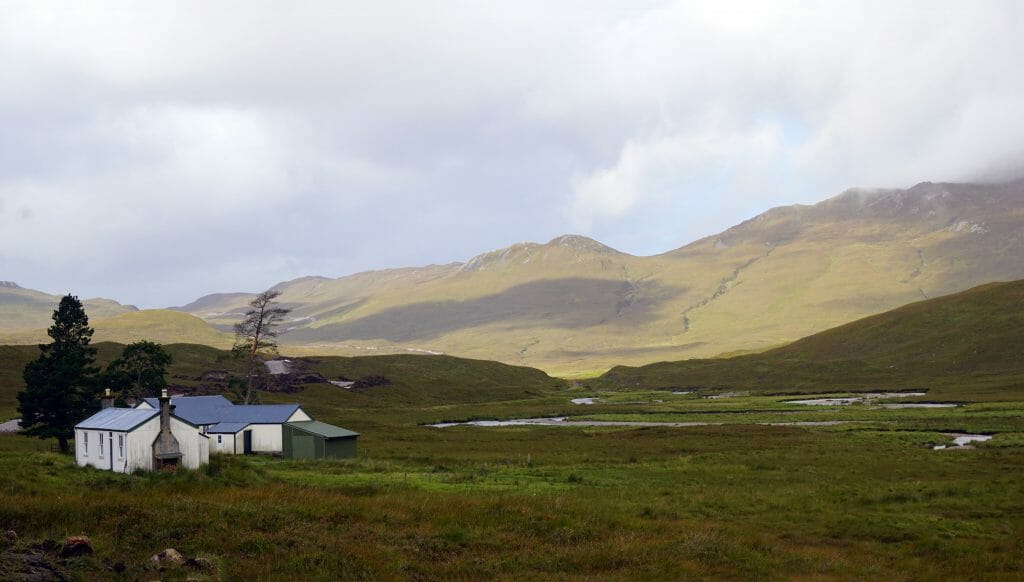 After a stormy night at this luxurious bothy (in terms of bothy standards) I kept heading north, into the suddenly wooded area around Craigh and into Glen Coulin beyond. I spent the day walking through what seemed like a green Garden of Eden after the marshy landscapes of the previous days. I then spent the night alone in nearby Easan Dorcha Bothy, probably one of the smallest bothies in Scotland. Up until now the only human encounters I had were a few cars zipping by when I had to hike along a stretch of road, and a quick wave to a guy flying past me down the hill on a mountain bike.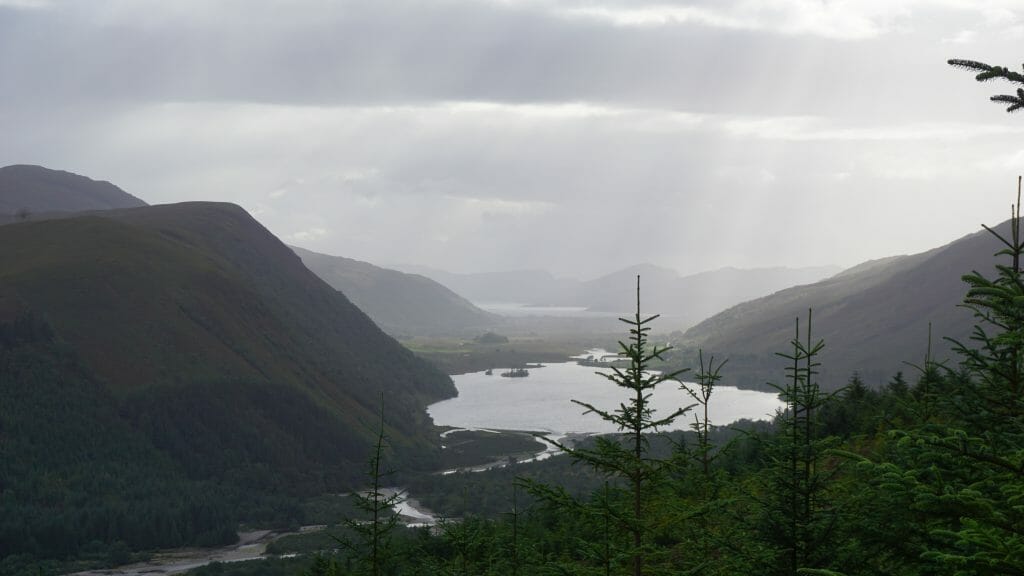 While camping out along the shores of Lochan Fada two days later, I found myself sitting in the middle of a great expanse of nothing but marshy ground and heather shrubs, the surrounding sea of green only broken up by distant peaks and the loch's blue waters. While I was sipping from my after-dinner mug of tea I realised that I was completely content at this point. Despite being alone, I wasn't lonely. I was self-sufficient. I was somewhat exposed and at the mercy of the elements, but I had confidence in my abilities to suffer through whatever weather would be thrown at me. After spending almost four days overcoming both physical and mental challenges, I had now reached a point where I felt completely at ease being out here, on my own, in the middle of nowhere.
This lead me to think about loneliness as a negative emotion, and why we perceive it this way, trying to avoid it at all costs by surrounding ourselves with noise. TV's, smartphones, computers and other screens that keep us in constant contact with others. A never-ending stream of chatter, entertainment and distractions to keep us from experiencing that awful awkward silence. But what if that same silence can lead us to a better understanding of our own limits and abilities? What if all we need to do to really connect to the world around us is to disconnect and overcome our fear of being alone?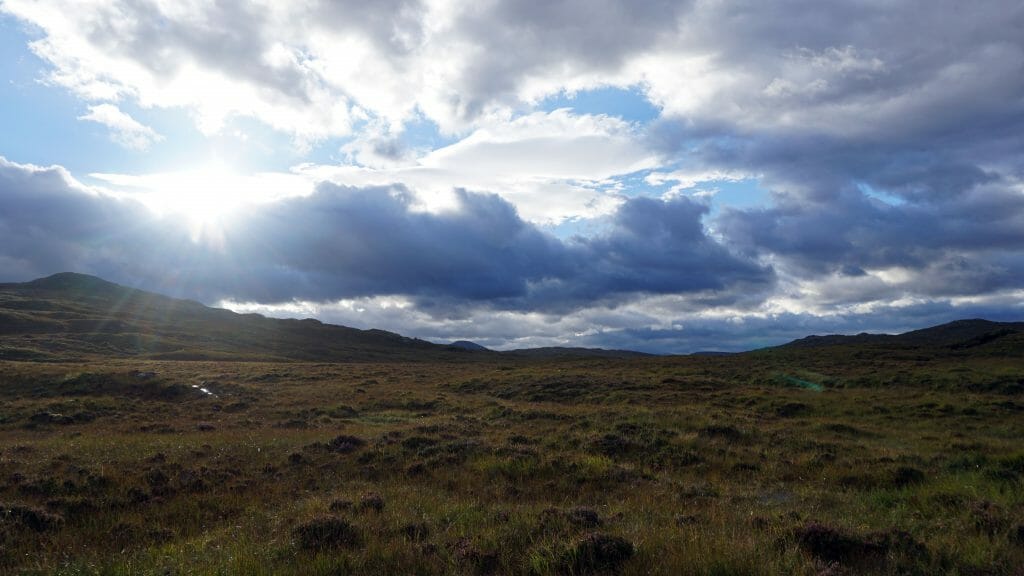 I kept musing on this as I made my way further north, through untouched glens and over hills shrouded in fog, until I reached civilisation once again. I reached the town of Ullapool on a clear and sunny day, which meant its streets were filled with people taking full advantage of a rare day like this one. For me this proved to be somewhat of a culture shock, suddenly being surrounded by people and luxuries again. All those people all around me, and not one of them familiar or seemingly willing to have a good conversation. A slightly tense feeling was creeping up somewhere in the back of my head; I actually felt lonely for the first time in eight days.
And that made me understand loneliness all the better. It's not an emotion triggered by ourselves, but rather by those around us. When alone out in the wilderness, when overcoming that initial short pang of isolation, you learn to cope with it through preparation, overcoming hardships and fortifying your confidence in your abilities. It is only when we are surrounded by others, but still feel alone, that we are truly at our most vulnerable.
---
This story continues in part four.BewarenBewaren
---