As soon as I entered the forests of the Borjomi-Kharagauli National Park a part of my mind was put at ease. I had found wilderness, at last. Forested wilderness, that is. The open desert plains around Udabno were impressive, but there will always be a part of me that yearns for wild, thick forests to get lost in for a few days.
I think most of these yearnings for mountains, forests and other wild places come from my dissatisfaction with the natural sights of my home country; you'll never see me yearning for the controlled, planned agricultural flatlands of the Netherlands.
All the more was I able to immerse myself in this wild Georgian forest landscape. Enjoying the silence of the woods, I often stopped walking to just stand still and listen. The only sounds in that thick wilderness were the wind rushing through the pine trees, the occasional woodpecker and the soft dripping and rustling of falling snow, the trees shrugging off their winter coats in preparation for spring. And although spring was definitely underway, the higher I climbed, the more winter seemed intent on showing me it had not released its grip on these mountains just yet. Large, deep patches of snow and white peaks towering above all like icy cathedrals attested to this.
The further I hiked up the mountain slopes, the better the views became. Soon enough I found myself surrounded by forested hills and white peaks as far as the eye could see. I felt a sting of regret while looking out over the distant wilds, as most of the national park was still off-limits to visitors due to the heavy winter conditions.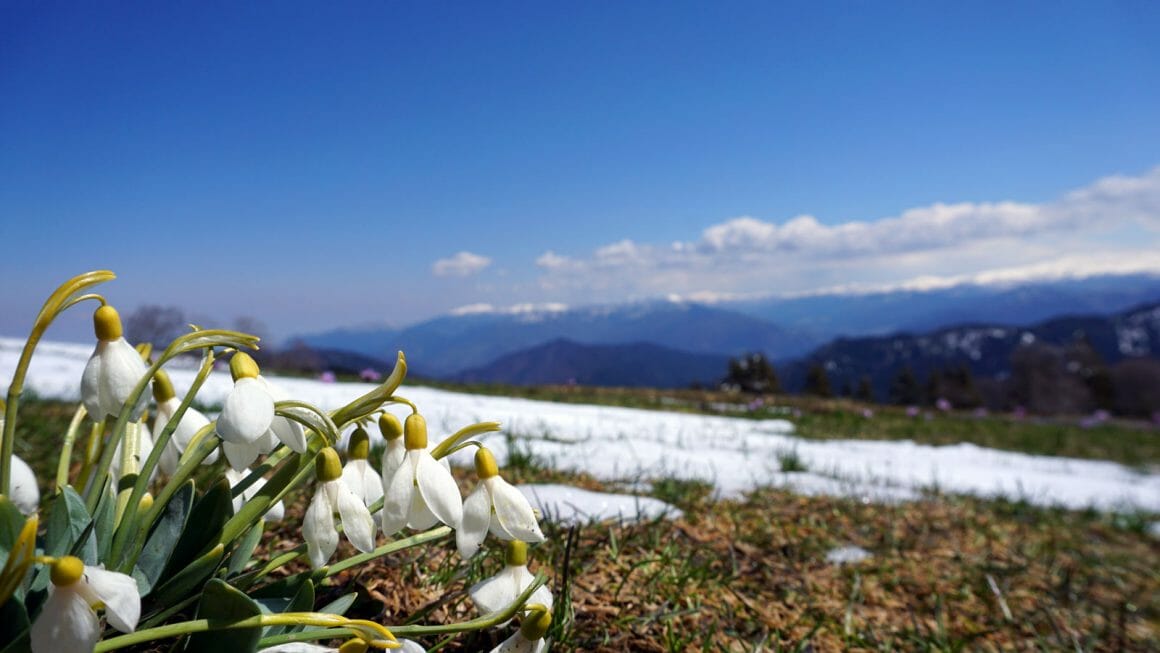 I had originally planned to hike along a looping six-day route that would lead me across some of the wildest parts of this area. However, the park's current limited seasonal accessibility forced me to take a shorter three-day route instead. This route would follow part of my original plan up until the point where it reached the peak of Lomis Mta ('Mount Lion'), where I would have to turn around and follow a slightly different route back down to the park's entrance.
My decision to forego camping and register for two nights in a shelter proved to be the right one, as my sleeping bag wasn't suited for camping in these subzero nighttime temperatures. Plus, it gave me plenty of opportunity to socialise with other hikers in the evenings and mooch some alcohol off them. Why carry something if someone else can carry it for you, right?
The spacious shelter cabin was nearly full that first night; out of a thirteen-bed capacity, only one bed was left. And that only because the pair of girls that came in late shared one bed together, so that one of them didn't have to sleep in the other room with the group of friendly park rangers that shared the cabin with us. Not that any of us offered up their own bunk to sleep in the ranger's room, either. It might have been the copious amounts of moonshine chacha they were consuming, the fact that they were getting as loud as they were drunk or the seemingly increasing language barrier. Or perhaps it was the fact that it was a room full of drunk men with access to loaded hunting rifles and shotguns.
The next morning I continued on the trail towards its highest point on the summit of Lomis Mta at a fair 2200 metres above sea level. While not the highest of summits, it still gives you a memorable view of the surrounding Lesser Caucasus and the Higher Caucasus far to the north. I could even spot the highest peaks of the Turkish Kaçkar mountain range, far off to the west.
That night I returned to the shelter to find it empty. It felt right, being alone and able to fully enjoy the evening woods and silence all by myself. I settled down in front of a crackling hearth fire and enjoyed my slice of happy isolation. After all, this was to be my last night in the wilds for the foreseeable future.
Soon I would trade in these natural landscapes for the concrete jungle that is Bangkok, to get some proper work done. It also meant revisiting the country where long ago I spent a year of my adolescence living among locals, forever changing my life in the process. My eagerness to reconnect to that part of my youth was constantly at odds with my reluctance to leave these peaceful woods.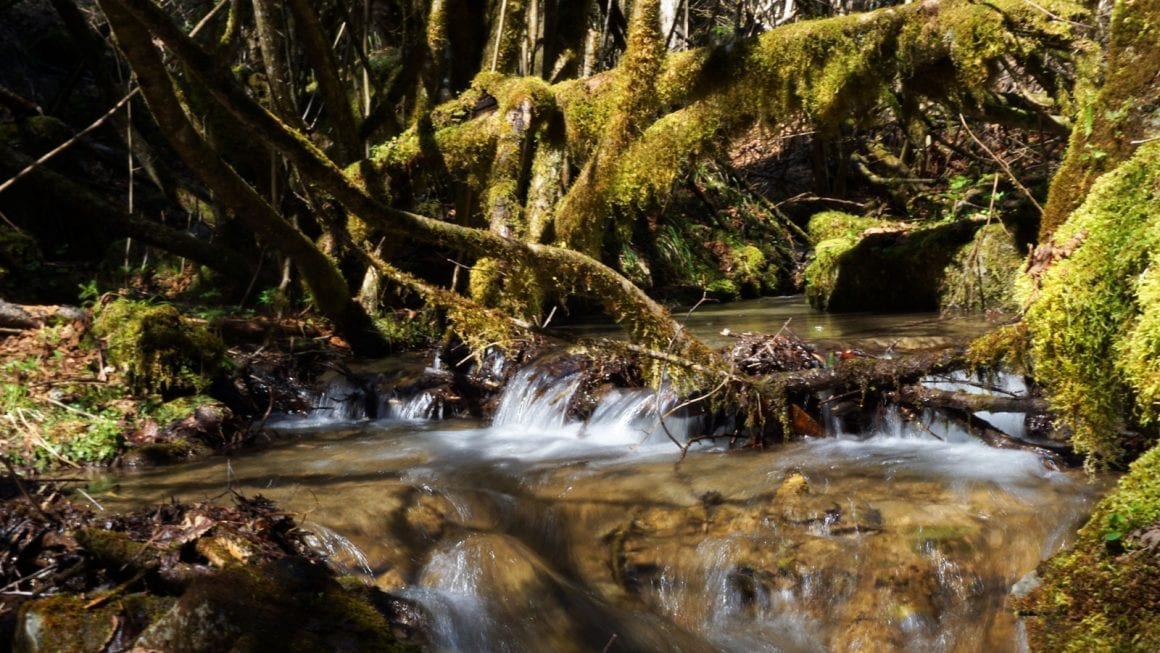 I left the national park through a slightly different route, ever descending into parts of the forest where spring finally laid its claim on the land. Everything seemed covered in a hundred shades of green, fed by strong flowing creeks and streams of meltwater from the snow fields above. Low branches covered in moss and a forest floor carpeted in dense undergrowth made it feel as if I was walking through a green dream, dreamt up by some long-forgotten forest spirit.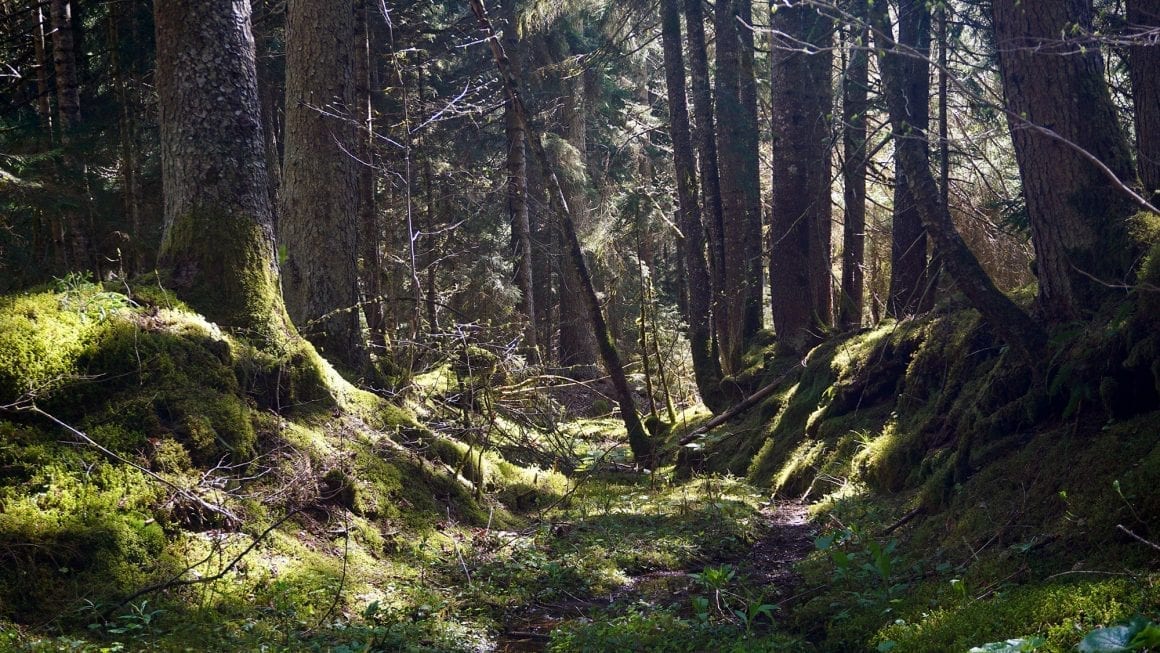 Enjoying every bit of my last steps through this fairytale forest, I found myself already homesick for these parts. No matter where my travels would take me, I promised myself to one day return to this natural paradise called Georgia.
But that would be for later. Now Bangkok was calling me with half-forgotten memories from a different life, melting my resolve to stay in the wild like the diminishing winter snows high above.