The Khangai Nuruu National Park is a protected natural reserve covering most of Central Mongolia's Khangai mountain range. Like most of Mongolia, it is a remote location that is only accessible with your own vehicle as there are limited public transportation options available. Hiking in Khangai Nuruu National Park is therefore as much an exercise in planning as it is in trail craft!
With its status as a region of both natural and cultural significance, the Khangai mountain range is considered to be the cradle of Mongolian and nomadic civilisation and popular with international and local tourists alike. Nomad camps dot a landscape that is predominantly green, with streams and rivers cutting their way through rounded hills covered in patches of pine forest. Important cultural sites like the Tövkhön monastery and Kharkhorin can also be found within its borders.
Trekking through this region is something that should definitely be on your Mongolian itinerary! As with any independent travel in Mongolia, you should plan ahead and do your research before heading out. Once again, I'm here to help!
IMPORTANT NOTE: As I trekked the region in summer, this guide will only cover hiking in Khangai Nuruu in the summer season. Hiking the area in winter will be a very demanding endeavour, only to be undertaken if you are a very experienced hiker able to survive for multiple days in temperatures around -30 degrees Celsius!
The Preparation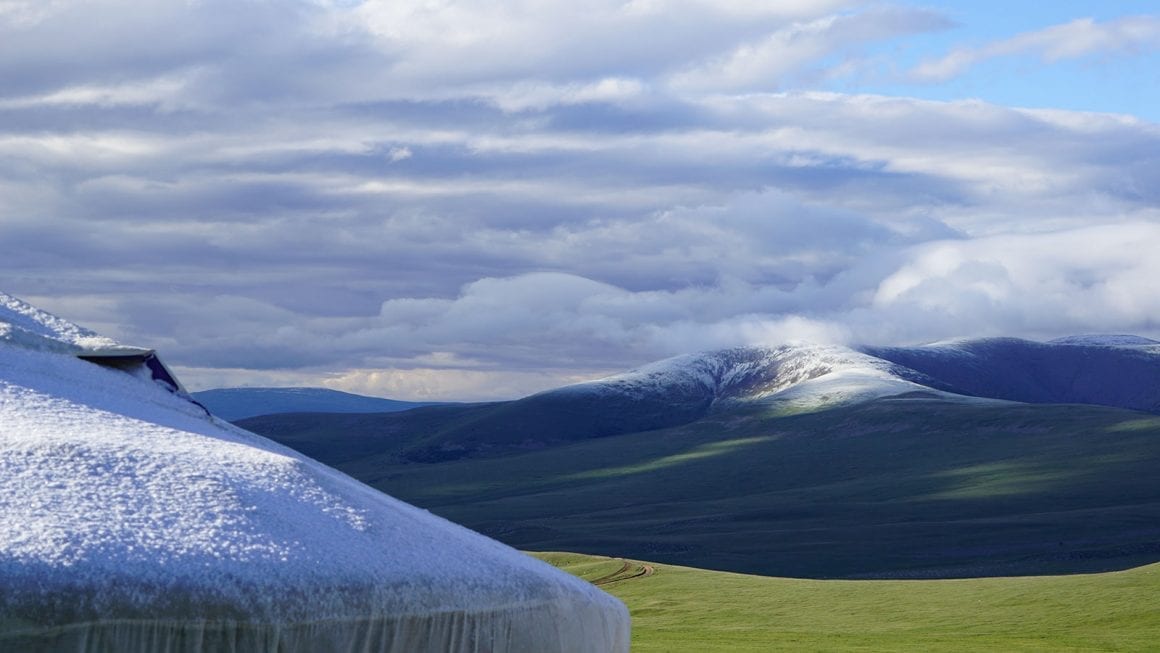 Like I said before, independent travel in Mongolia can be somewhat of a challenge, and hiking in Khangai Nuruu is no exception. Diving headfirst into Mongolia's countryside is going to get you stuck in a place with no other transportation than expensive private drivers and very limited food supply options. Planning your trip before you set off from the capital Ulaanbaatar will get you the most out of your time in Mongolia!
Logistics
Getting to the Khangai Nuruu National Park will be your first matter of business. With a limited tourist infrastructure, travelling around Mongolia often means hiring a local driver to get anywhere. There are a number of local bus routes however, and fortunately some of these service the area around Khangai Nuruu National Park.
From Ulaanbaatar, you'll need to get to the 'Dragon' bus terminal on the west side of town.
From there, you can take a bus to the towns of Tsetserleg, Kharkhorin or Arvaigkheer that are respectively north, northeast and southeast of the Khangai mountains.
These towns offer good options for buying supplies and (with the exception of Kharkhorin) arranging local minivan taxis to take you to villages closer to the national park itself.
On Hitchhiking: While hitchhiking is always an option in my opinion, the concept of asking for a free ride is not very well understood or appreciated in Mongolia. Should you decide to go hitchhiking, make sure your potential ride understands you're asking for a free ride before you get in the car!
Food Supplies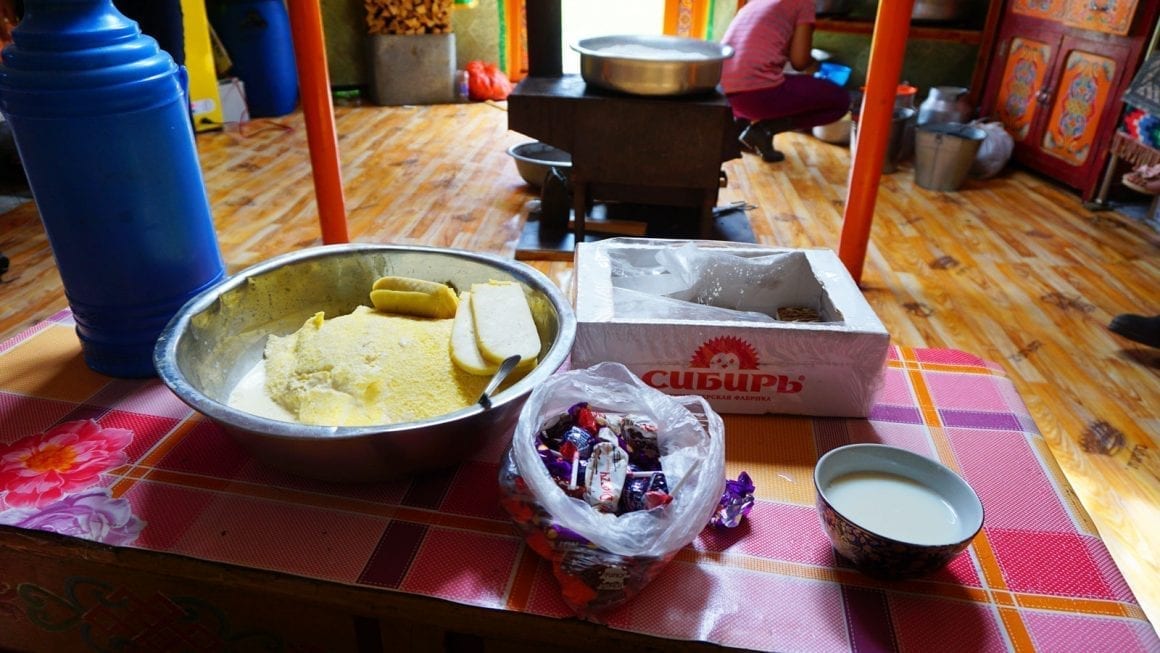 With water being easily accessible in the Khangai Nuruu, food supplies will be your main concern when planning multi-day hiking adventures. And with ready-to-eat hiking meals being really hard to find in Mongolia, your best options will be to either bring supplies from abroad, or buy oats, millet groats or similar lightweight basic food in Mongolia.
Personally, my go-to options for hiking food are instant oats mixed with dried fruit for breakfast and couscous or millet groats mixed with spices and soup mix for dinner. I found most of what I needed at E-mart in Ulaanbaatar. This Korean megastore has everything you might need, including food items otherwise impossible to find in Mongolia. If E-Mart doesn't have it, you probably won't be able to get it anywhere.
Good local options for hiking food are dried mutton and dried milk curds for your daily protein needs. Either will be available almost anywhere in Mongolia.
Level of Difficulty
While hiking in Khangai Nuruu National Park is not an overly demanding adventure, the region's remoteness and often unpredictable summer weather will test your endurance levels. I therefore recommend you should have at least more than a moderate level of fitness before trying multi-day hiking in the Khangai mountains. An average fitness level should be fine for any day hikes.
The Gear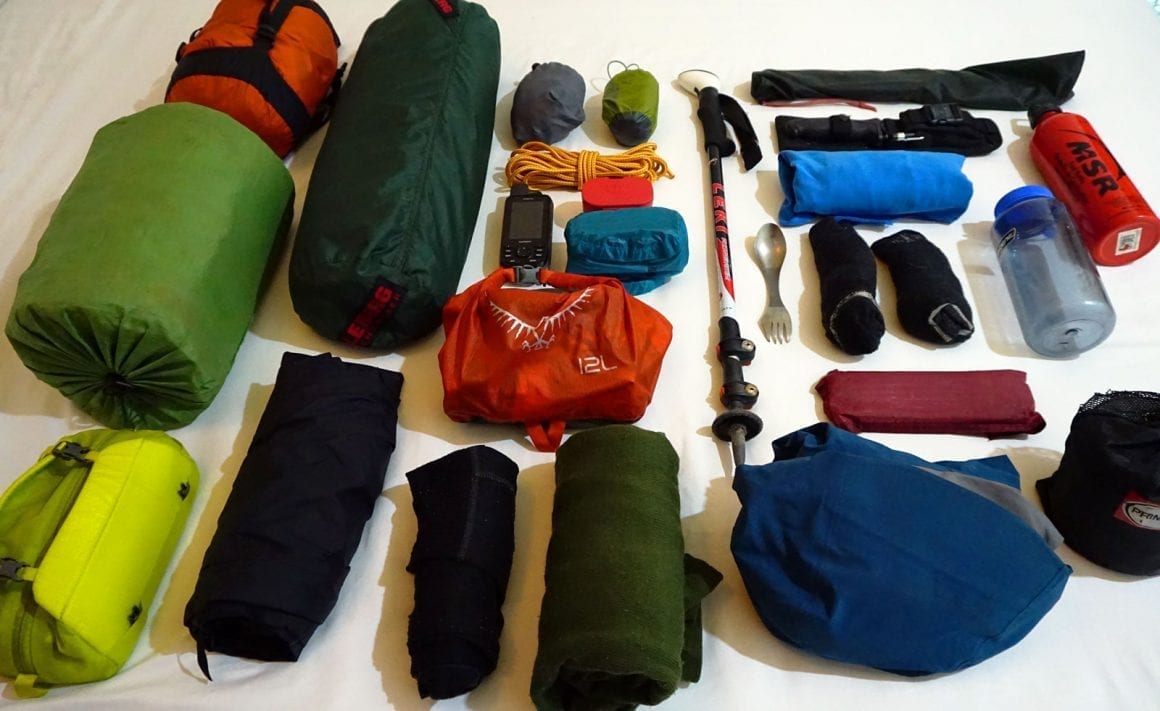 As quality hiking gear is hard to find in Mongolia I advise you to buy any gear you might need back home, before you set off on your trip. If you're in need of camping supplies like gas canisters or basic accessories, I strongly recommend you get them before you leave Ulaanbaatar as there are almost no options to get good gear in the countryside. The Seven Summits store is a good place for most of your basic gear needs.
Gear List
I will list only what I consider to be the essentials here; I'll leave it up to you how much extra gear you want to bring.
Sturdy, waterproof hiking boots. Make sure they fit well, and get good quality shoes that won't come apart in demanding environments!
Good, sturdy backpack. I recommend taking one with a capacity of at least 65 litres. The fewer items you bring, the smaller your pack can be, of course. Just make sure to leave enough room for food supplies!
Lightweight tent. Unless you are a personal friend of every single Mongolian nomad out there, bring a tent!
Decent sleeping gear. A sleeping bag and whatever item you prefer to sleep on. Just make sure to prepare for cool nighttime temperatures!
Appropriate sets of clothing. The summer weather in the Khangai Nuruu can be fickle. Bring clothes for both sunny, hot weather and cold, wet weather!
Good rainproof outer layer. The Khangai Nuruu can get extremely wet in summer, don't forget your raincoat and waterproof pants!
Cooking gear and fuel. Unless you plan on eating cold rations for several days, bring something to heat up your food or make tea with!
Water reservoir or water bottle and filter. Either get a lightweight water reservoir for your backpack, or a large drinking bottle of at least one litre (33 oz). Filtering the local water is advisable, due to the many herds of livestock in the area.
Map, compass and navigational skills. Bring these along even if you're bringing a GPS device. Its batteries could run dry or it might stop working for any other reason.
Medkit and basic first-aid skills. You'll be far removed from outside help for most of the time, so a certain degree of self-reliance is recommended! Make sure you bring something to send out emergency signals with as well, just in case.
Insect repellant and/or bug net. There are countless cows and sheep in the area. They poop. Their poop attracts a lot of flies. You have been warned!
Swiss army knife or multitool. Don't leave home without it.
A camera. In a country as beautiful as Mongolia, I consider this an essential bit of equipment.
The Route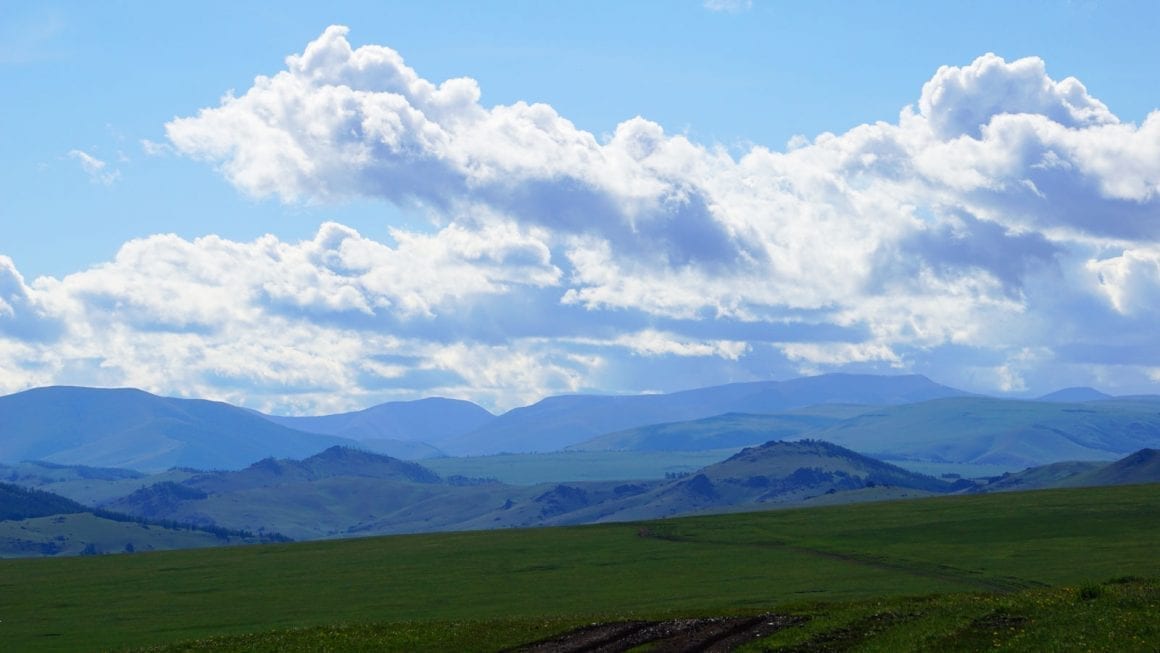 Choosing a route through Khangai Nuruu National Park is as easy as choosing a river valley and following it. Following rivers is the easiest and safest way of navigating through Mongolia's huge, dry wilderness regions. This way you'll always be near a water source, although I recommend you try and get water from streams feeding into the larger rivers instead of drinking from the river itself. Always filter or properly boil the water before drinking! The abundance of livestock in the area means the risk of contamination is quite high.
Getting good maps can be somewhat of a challenge. I haven't been able to find good hiking GPS maps. I settled for a general roadmap from Garmin World Maps, and followed a GPX route I made with OutdoorActive.
The Seven Summits outdoor store in Ulaanbaatar sells a number of paper maps based on old Soviet military map data. These are in a minimum scale of 1:50 000, so are best used in combination with a GPS device. They are sold for 15.000 Tögrög each.
All in all, I highly recommend decent navigational skills with both map and compass as well as GPS when planning a multi-day hiking trip in Khangai Nuruu National Park!
The Cost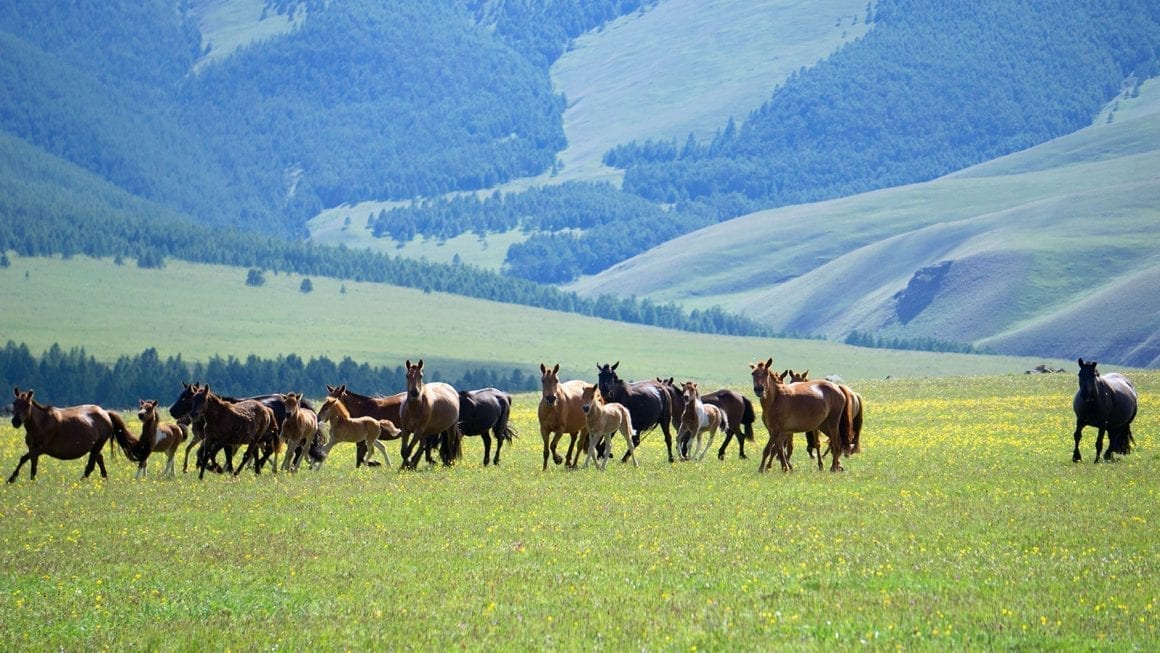 Getting there
As stated earlier, the fastest way to the trailhead would be to arrange for a private driver to take you there. From Ulaanbaatar, this will cost you upwards of 200.000 Tögrög. A much cheaper option, and just about as fast, would be to take a bus to any of the nearby towns like Tsetserleg, Arvaigkheer or Kharkhorin. The fares to these destinations average around 25.000-30.000 Tögrög.
This will be the cheapest part of your trip, by far. That is, as long as you stick to local food and restaurants. Any imported goods will often be relatively more expensive (but more than likely still cheaper than you're used to).
Food and drink
Expect to pay an average of 800-5000 Tögrög per item, with meat-based products averaging between 5000-10.000 Tögrög. These are broad averages, of course. It all depends on what you're planning to buy!
Insurance
As usual, I always recommend getting travel insurance that covers a broad range of 'off-road' activities. Especially so in Mongolia, as it can be a rough, unpredictable country at times. The horses, even those on arranged tours, are half-wild and so is the nation's attitude towards traffic management. Accidents happen all the time, so come prepared!
As a rule, World Nomads offers excellent world-wide insurance for a wide range of activities, including hiking up to an altitude of 6000 metres.
Always make sure to thoroughly check your insurance plan, as conditions may vary for your nationality or itinerary.
And that's it for my guide to hiking in Khangai Nuruu National Park! I hope this guide has been of use to you. If you have any more questions, please let me know in the comments below or send an email to roel@beatthetrail.com!
See you on the Trail!