As the capital city of Mongolia's Arkhangai province, the city of Tsetserleg is a centrally located provincial town and a popular base for travellers looking to explore the region. However, it is still very much a Mongolian provincial town; your options for entertaining yourself can seem limited at first. Not to worry! I explored the place and came up with this list of things to see and things to do in Tsetserleg!
Take a walk around town
Literally meaning 'Garden', Tsetserleg is considered to be Mongolia's prettiest provincial capital. And although it might seem a bit drab and rural to most first-time visitors, the observant eye will notice the many parks, restored temples and lively atmosphere in its streets. There is an attention to detail the city displays in its maintenance of public spaces that is quite rare in Mongolia.
Take a few hours and appreciate this as you wander Tsetserleg's streets on your way to any of the other sights mentioned below!
Visit the Arkhangai Museum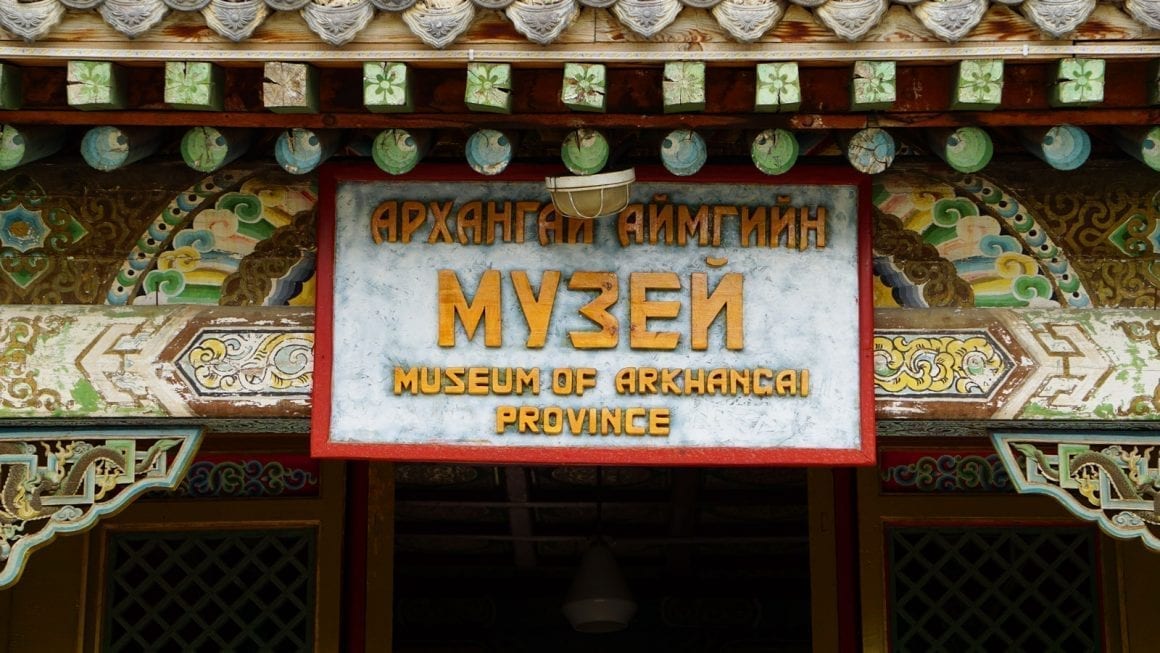 Situated in the courtyard-temple complex of Zayain Gegeenii Süm, the Arkhangai Provincial Museum is an interesting way to spend a few hours. On display are traditional Mongolian lifestyle, costumes and archeological finds such as weapons and tools.
Fun fact: the temple complex escaped destruction during the communist purges in the last century by converting into a museum!
Go hiking
With the Khangai Nuruu National Park to the south, the Bulgan Uul nature reserve directly to the north and being close to Therkiin Tsagaan (AKA 'White Lake') Tsetserleg is an excellent base from which to embark on epic hiking adventures. Stock up on supplies, get a good map or a guide and set off in any direction!
For the active adventure seekers among you there is plenty to see and do in the region, so there's no need to sit and be bored in town.
See the Galdan Zuu Temple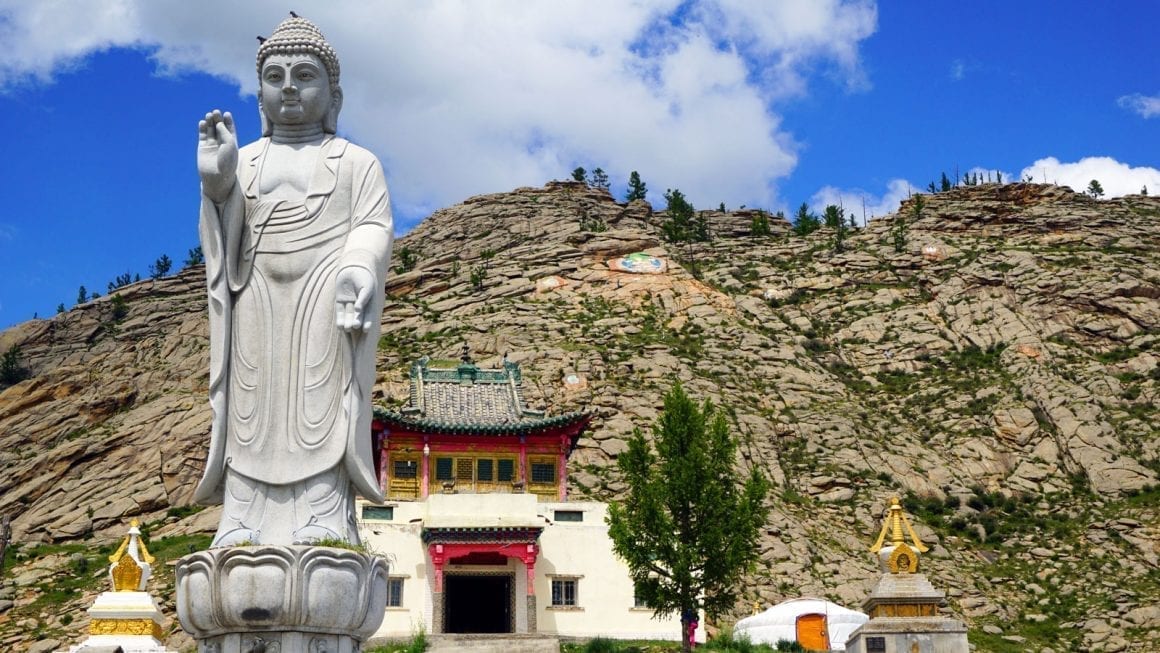 A prominent landmark of the town, the Galdan Zuu temple complex overlooking town is probably one of the first things your eyes will latch on to when visiting Tsetserleg. With a 7-metre tall Buddha statue and Buddhist inscriptions on Bulgan Uul's steep rocky hill behind, this temple complex is beautifully photogenic and definitely worth a visit!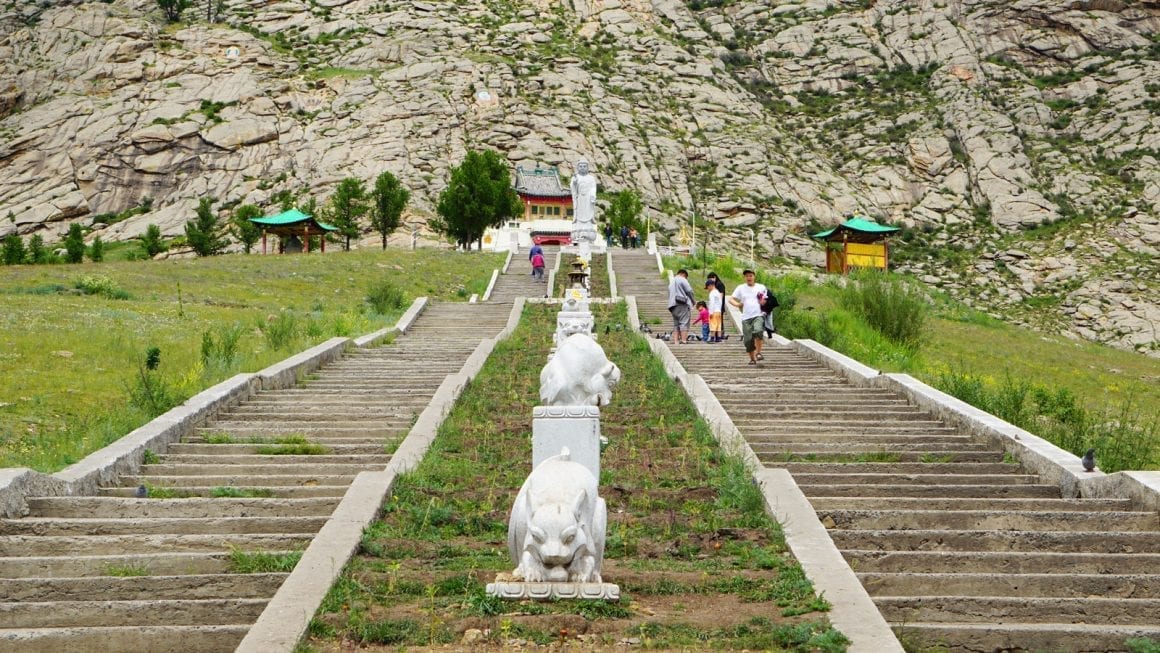 Stay at the Fairfield Guesthouse
The Fairfield Guesthouse might not be the cheapest option in town, but it is the closest thing to a hostel atmosphere Tsetserleg has to offer, should you be interested. It also features a bakery and coffeeshop, which provides training and employment to locals and serves some of the best bread to be had in Mongolia!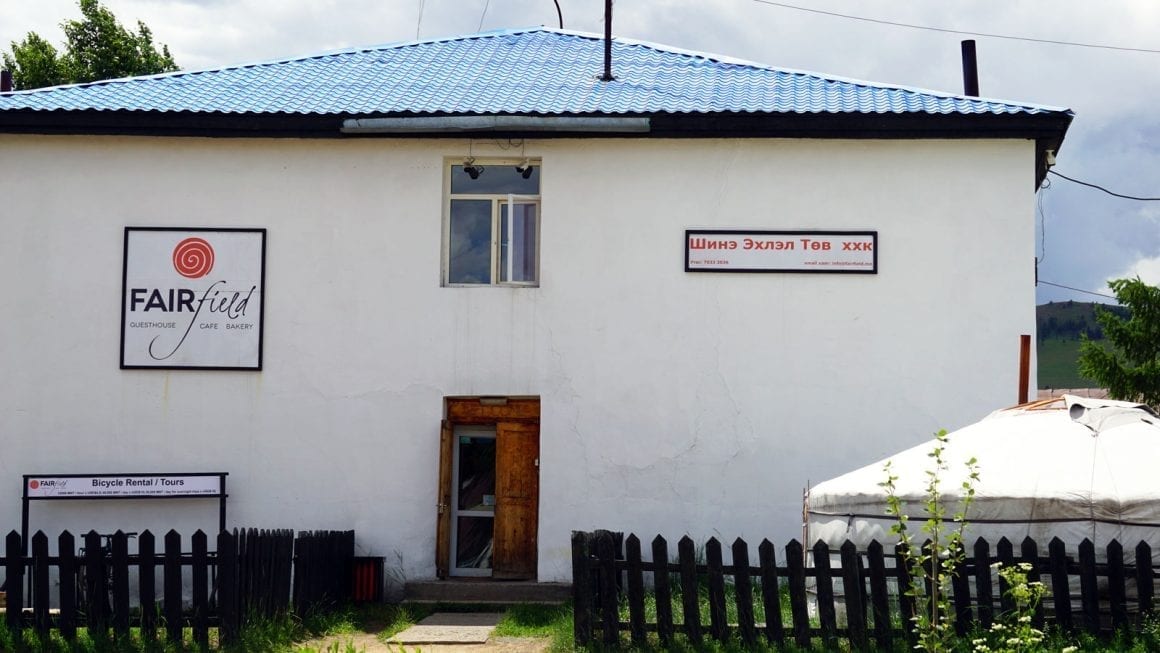 There's also the (cheaper) option of sleeping in the ger outside the front door, which serves as their dorm room.
Visit the market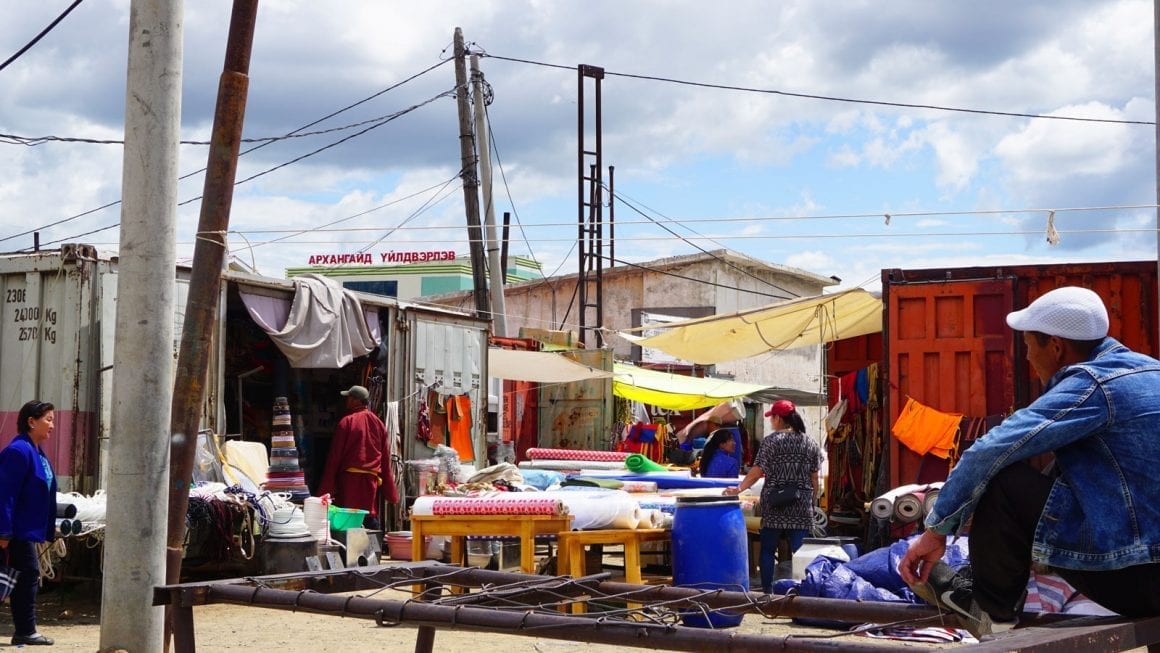 On the southern end of town you'll find Tsetserleg's commercial district with a number of large supermarkets, a department store and the local market. Here you'll find a huge variety of items being sold from shipping containers, ranging from Chinese motorcycles, parts, riding tack and saddles to Tupperware boxes, fake Gucci bags and the occasional sheep.
If nothing else, it's a great insight in local rural economy.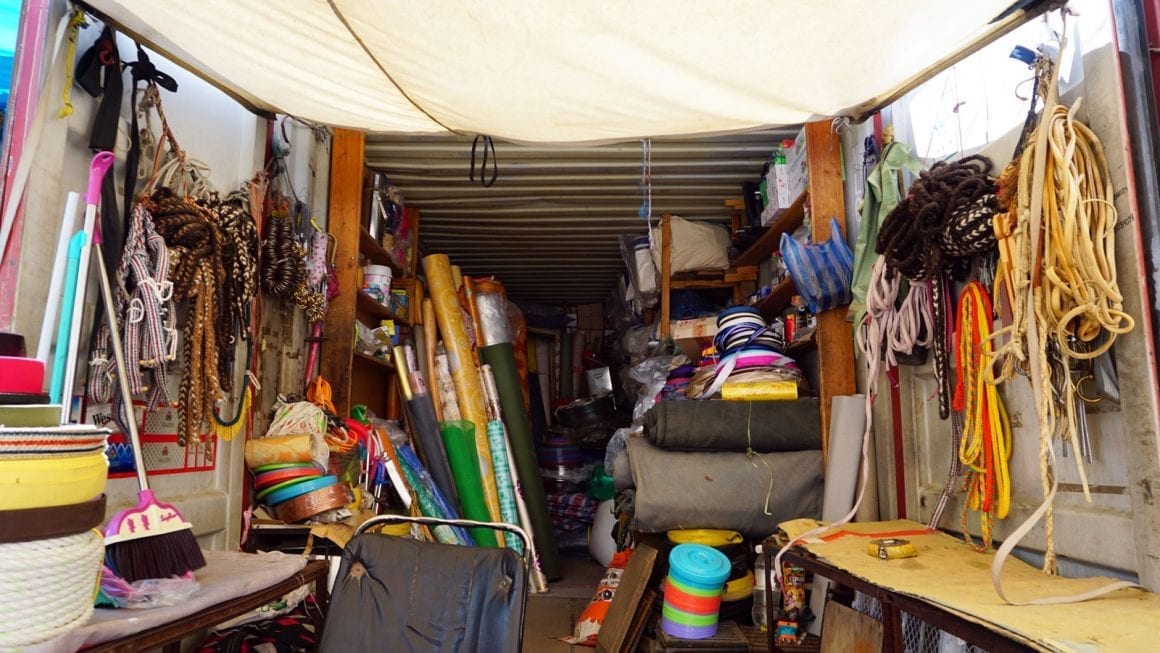 Experience the nightlife
After a long day of strolling about town you'll probably want a nice cold beer and unwind in a bar somewhere. If you're looking for a Western-style pub or bar experience you'll be out of luck. White fluorescent lighting and dodgy atmospheres dominate the bar scene here.
However, if you're looking to experience something new and offbeat, Tsetserleg's nightlife might just be the thing you want. A typical night out on the town would start in one of the many restaurants. The Tsakhiur Hotel, Hometown restaurant or Sky Nomads restaurant are good places with fair prices. After dinner you might want to change the scenery. Have a go at one of the countless local drinking rooms or try the Naran Hotel next to Fairfield Guesthouse, featuring a karaoke bar!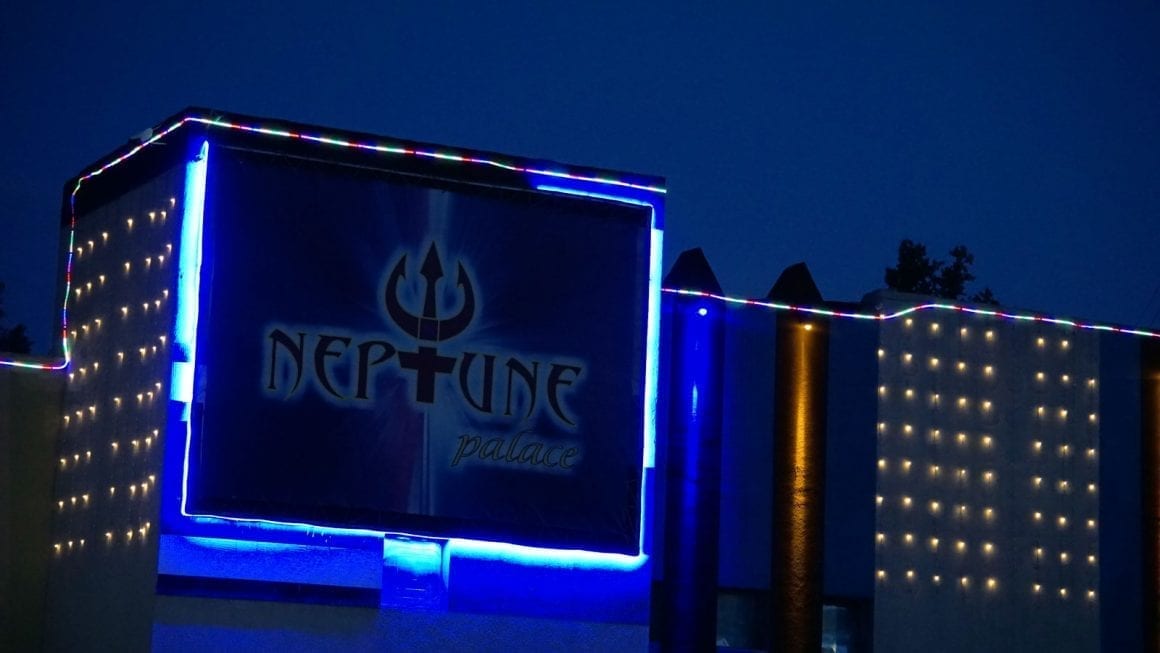 Right around the corner is the somewhat infamous Neptune nightclub where you can party deep into the night! Take care to read the atmosphere in here though, as this place has a bit of a rough reputation from time to time…
And that's it for my quick guide on things to do in Tsetserleg! Feel free to post questions or additional tips in the comments below!
See you on the Trail!