It takes a certain level of insight to acknowledge when your carefully laid out plans are wrong. Or, as was the case with my intended tour of Central Asia, based on the wrongful assumption I would be fine with hiking open plains for months on end. Either way, I was wrong.
However impressive and challenging Mongolia's Khangai mountains proved to be, I felt I didn't enjoy this long-distance hike as much as I did other long treks in the past. It could have been the weather, alternating between blazing hot sun, chilly winds and thunderstorms pouring down hail and rain every other day. More likely it was the ever-present cloud of flies eating away at my sanity whenever the sun would come out. One thing was for sure: I didn't want to spend the next three months hiking through similar conditions in Kazakhstan or Kyrgyzstan if it was going to be like this.
I felt a change of plans was necessary to keep my travels interesting. After all, if I am not personally invested in a region, it would be that much harder for me to write about it. And having hiked for days through rough weather, dealing with fly clouds and feeling like I wouldn't get much satisfaction out of it, let alone a good story, a change of plans was in order. I needed an easy win.
So what better option would I have than to travel to the country that has been single-handedly responsible for over fifty percent of my life's pop culture intake and countless hours of travel-related daydreaming?
Three weeks later the wheels of an Asiana Airlines flight out of Seoul touched the tarmac of a landing strip at Kansai International Airport, marking my arrival in Osaka, Japan.
It was as if I had arrived in a custom-built amusement park, themed around countless pop culture and gaming references, all my favourite food items, a healthy dose of general weirdness and a metropolitan atmosphere providing an exhilarating change of pace from the remote, rural vibes of Mongolia. Known as a historical seaside centre of commerce and trade, Osaka is Japan's second largest city and packed with markets, Pachinko halls, restaurants, cheap fish, enormous comic book stores and animal cafes featuring almost every kind of fluffy critter known to man.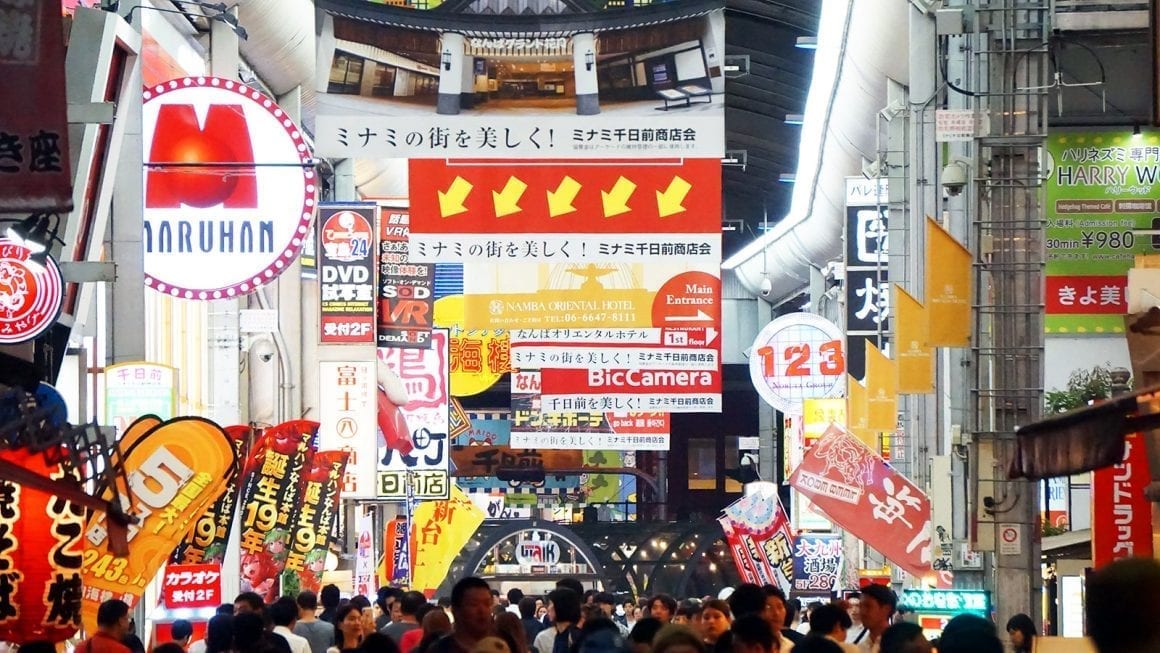 I spent those first days happily wandering around town, ignoring my budget while being caught up in a constant state of wonder and child-like glee. When I finally came down from the high, I started watching my spending and returned my attention to my travel writing.
And as it turned out, my work over the past few months had payed off. For the first time in my blogging career, every single one of my recent articles had made it to the first page of Google's search results. This not only proved my new keyword strategy worked, but it also put to rest any doubt I had concerning Beat The Trail's growth. If nothing else, it felt a bit like a sign, some unseen force telling me I made the right decision by coming here, despite the hit to my budget. Not that I'm overly superstitious, mind you.
Later that day I nevertheless visited the shrine to Ebisu Okami, Osaka's favourite deity of wealth and prosperous businesses. I offered him some coin, said a little prayer and burned some incense as a sort of cosmic thank-you note. Just to stay on the safe side.